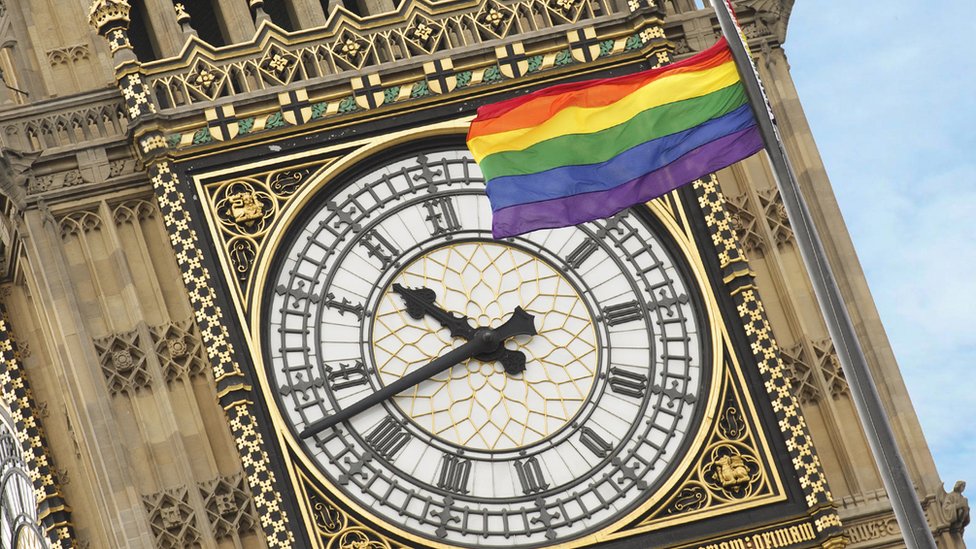 Thousands of people marching in the Pride parade in London will stop for a minute to remember the victims shot dead in a nightclub in Orlando.
The parade will begin at 13:00 BST in the West End and end at Whitehall under an increased visible police presence.
For the first time the Red Arrows will fly past the march and a rainbow flag is flying at Parliament.
London Mayor Sadiq Khan will address the celebratory parade and singer Alesha Dixon will entertain revellers.
The pride parade is in its 43rd year.
The march takes place weeks after a gunman shot dead 49 people at a gay nightclub in Orlando in Florida.
The Metropolitan Police has said the visible police presence will be in place to provide reassurance.
Commissioner Sir Bernard Hogan-Howe earlier said there was "no intelligence" to suggest the march or the city would be targeted, urging people to join in but "take reasonable precaution".
Organisers expect the more people will attend the event this year to show support for the Lesbian Gay Bisexual and Transgender community.
Gay rights campaigner Peter Tatchell, who was involved in organising the first Pride, said people must unite against hate and this year both gay and straight Muslims will join the parade in a show of solidarity.
He said: "In the wake of the horrific mass murder of LGBT people by an Islamist gunman in Orlando, we are highlighting the need for dialogue, unity and solidarity between the Muslim and LGBT communities – to oppose all hate."
This year the parade will feature more than 100 Met Police officers and 200 military personnel, as the flypast will show support within the Armed Forces for the LGBT community.
Let's block ads! (Why?)
Source:: BBC world news feed