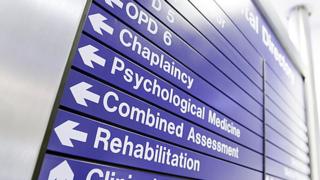 Long journeys for acute mental health care 'must end'
9 February 2016
From the section Health
Image copyright
SPL
Sending mentally ill adults in England long distances for care is unacceptable and must end, a report by experts says.
The Independent Commission, chaired by ex-NHS chief executive Lord Crisp, said the practice meant some mental health services were potentially dangerous.
Each month, some 500 patients have to travel more than 50km to access care – with acute inpatient beds or services unavailable in their areas, it said.
The government has asked the NHS to cut unnecessary out-of-area treatments.
The report, which is backed by the Royal College of Psychiatrists (RCP), recommends changes to how services are commissioned.
It says that, from October 2017, no acutely ill patient should have to travel long distances to receive care.
At the same time, a maximum four-hour wait for acute psychiatric care – in hospital or the community after an initial assessment – should be introduced, …read more
Source:: BBC UK