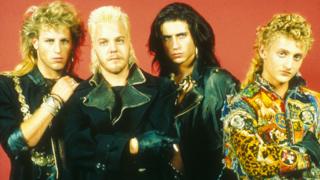 Lost Boys actor Brooke McCarter dies at 52
23 December 2015
From the section Entertainment & Arts
Image copyright
Rex Features
Image caption
McCarter (left) with Lost Boys co-stars Kiefer Sutherland, Billy Wirth and Alex Winter
Brooke McCarter, best known for playing a vampire in The Lost Boys, has died at the age of 52, his family has said.
The US actor played Paul, a member of Kiefer Sutherland's blood-sucking gang, in the 1987 horror comedy film.
In a statement, his "heartbroken" family said he died on Tuesday "from the genetic liver condition alpha-1 antitrypsin deficiency (AAT)".
The message describes McCarter as a "loving son, brother, father, uncle, cousin, nephew and friend".
The Facebook statement …read more
Source:: BBC Entertainment