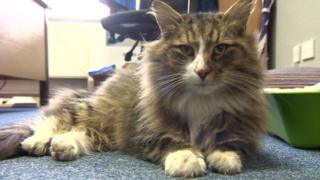 Missing cat found in Nottinghamshire pet food warehouse
4 February 2016
From the section Nottingham
Image caption
Nobody is certain what Clive has been up to for the last 16 months but he turned up in a pet food warehouse
A cat missing for more than a year has been reunited with his owner after he was found "feasting" in a pet food warehouse.
Norwegian Forest cat Clive vanished from his home in Toton, Nottinghamshire, in October 2014.
He was found at the Kennelgate Pet Superstores warehouse, about two miles away, where he had repeatedly set off the alarms during the night.
His owner Tanya Irons said she could not believe he was "so porky".
Source:: BBC world news feed