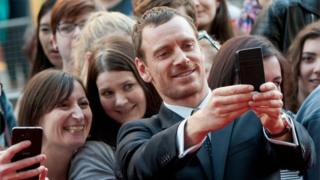 Macbeth film given Edinburgh premiere
27 September 2015
From the section Edinburgh, Fife & East Scotland
Image copyright
Getty Images
Image caption
Michael Fassbender posed for selfies with fans
Michael Fassbender has led the cast of Macbeth on the red carpet as it received its UK premiere in Edinburgh.
The Hollywood A-lister plays the title role in the new film adaptation of Shakespeare's tragedy which is out in cinemas next week.
He stopped to talk to fans, sign autographs and pose for selfies as he made his way to the screening at the Festival Theatre.
Marion Cotillard, who plays Lady Macbeth, was not on the red carpet.
But David Thewlis, who takes on the role of …read more
Source:: BBC Entertainment