By Emma Brant
Newsbeat reporter
20 December 2014

From the section

Music
Madonna has surprised fans by releasing six tracks from her new album after songs were leaked online.
In a statement, the singer said: "I would prefer my fans to hear completed versions of some of the songs instead of the incomplete tracks that are circulating.
She added: "Please consider these six songs as an early Christmas gift."
Rebel Heart is due out next year.
The decision to release the songs much earlier than scheduled was due to the leaking of several work-in-progress demos earlier this week.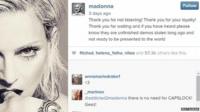 The 56-year-old posted a comment on Instagram on Thursday, after some of her tracks appeared unofficially online.
"Thank you for not listening! Thank you for your loyalty! Thank you for waiting and if you have heard please know they are unfinished demos stolen long ago and not ready to be presented to the world," she said.
But one response to the comment was slightly cynical and said: "good marketing" and another comment accused Madonna of "acting like a child".
The six album tracks are currently available for purchase now via a pre-order sale of the album.