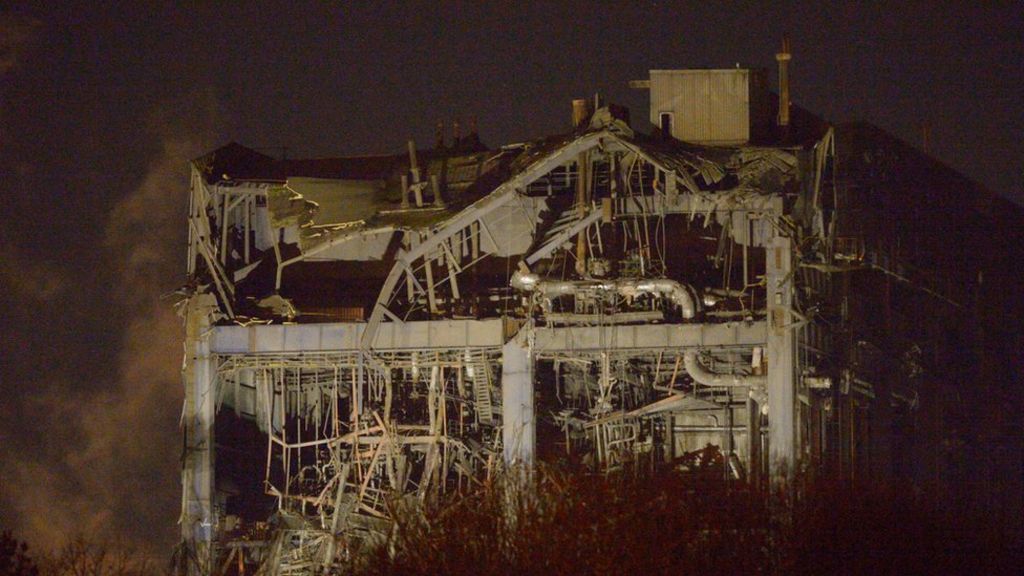 A major search operation is under way to find three people missing after a building at Didcot power station collapsed and left one person dead.
Rescuers using sniffer dogs have been at the Didcot A Power Station site since a major incident was declared.
Initial reports suggested an explosion took place at 16:00 GMT on Tuesday.
Thames Valley Fire Control Service said the collapse was a "very severe incident", which left five other people needing hospital treatment.
Speaking from the scene, deputy chief fire officer Nathan Travis said: "Emergency crews are continuing on site overnight and there will be further assessments in the morning.
"This is a difficult situation due to the instability of the structure and the safety of emergency personnel is our biggest consideration."
A 100m cordon remains in place around the site and specialist search and rescue teams from Buckinghamshire, Hampshire and the West Midlands, are searching a rubble pile up to 30ft in height.
Mr Travis said: "My thoughts are with the families of the missing people who have been waiting all night for news who I know will be desperately worried."
It was initially believed four people had been taken to John Radcliffe Hospital in Oxford, two with serious injuries and two with minor ones, but it was later confirmed that a fifth person was also being treated at the hospital.
A further 50 people were treated at the scene for dust inhalation.
The Didcot A plant was closed in 2013 and demolition work has been taking place.
A joint statement by the emergency services said the building, which is 300m-long and 10-storeys high, was due to be demolished in the coming weeks.
An Npower spokeswoman said the building had collapsed "while an external demolition contractor was working in it."
"Our thoughts are with the families of all those involved in this tragedy," he said.
The …read more
Source:: BBC UK