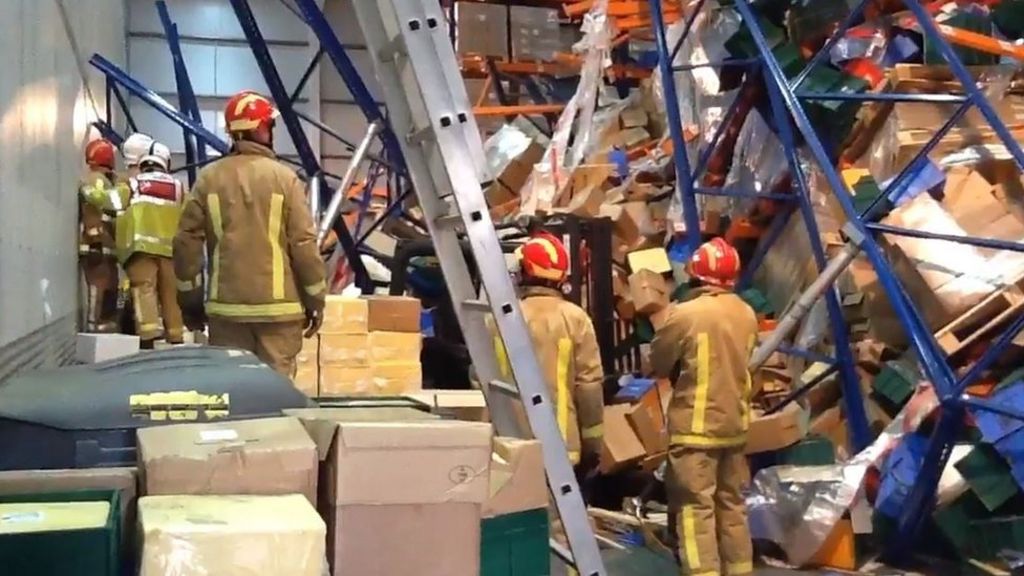 A worker is feared trapped after metal shelving inside a food distribution warehouse storing cheese collapsed.
Rows of metal racking came down in the building on Hatton Road, just outside Hinstock, Shropshire earlier.
Police and fire crews are searching the wreckage for a missing man. Rescuers are cutting through the roof and using drones in a bid to trace him.
The warehouse belongs to haulage company Edwards Transport and was understood to be storing cheese.
Live updates on warehouse collapse
Shropshire Fire and Rescue spokesman Malcolm Stevenson said a drone was being used to search for the missing person.
"At this stage we have no idea the why the racking inside has collapsed," he said.
"The building itself has not collapsed although it has been damaged by the collapsed racking inside.
"There's a great deal of it."
He described the racking as being like inside "very large warehouses like those of Tesco and Argos, to keep huge amounts of stock."
"It's metal racking, virtually up to the ceiling, pretty high, and it's full of product of various size.
"The racking is organised in corridors. Most of that has fallen over and collapsed."
He said the building was intact but that there had been "bowing to the sides".
West Midlands Ambulance Service earlier tweeted one person had been treated for the effects of shock and staff remained at the scene.
Local resident John Davis said: "It's collapsed. Whether there's anybody trapped in there or anyone injured, I don't know. The police have obviously closed off the access road down there and the emergency services have been coming and going.
"There's a lot of sirens and activity down there, I'm not quite sure of the status at the moment, let's hope nobody's injured."
A search and rescue dog unit from Merseyside has arrived at the site to assist with the search, BBC Radio Shropshire …read more
Source:: BBC world news feed