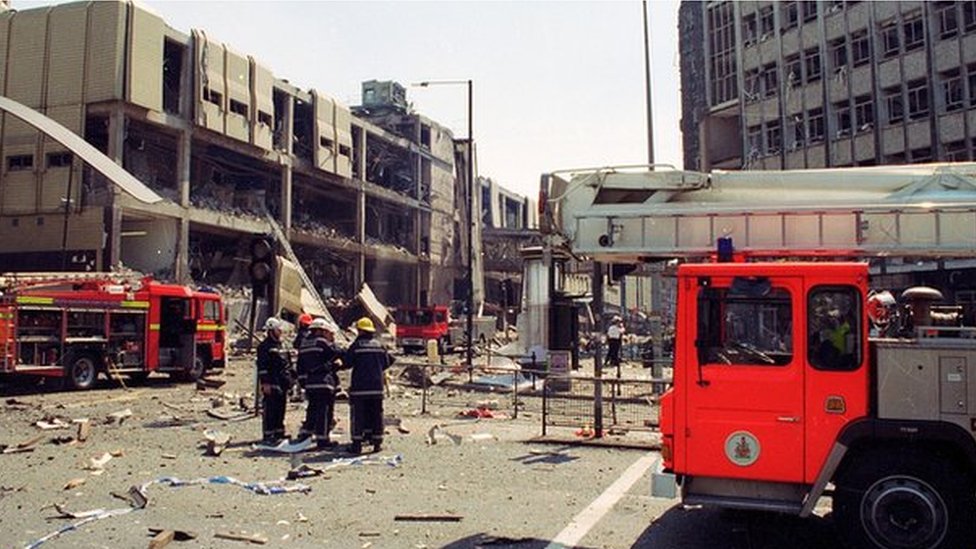 Sinn Fein could apologise for the IRA bombing of Manchester – but only if the British government acknowledges its role in the Northern Ireland conflict.
More than 220 people were hurt in the 1996 attack which devastated the city centre causing £700m in damage.
On the 20th anniversary of the bombing, Sinn Fein's Pat Sheehan said all parties must become "accountable" and "that may mean an apology."
No-one has been charged over the blast. The UK government is yet to comment.
Many people were hurt by flying glass and debris but, thanks to a police operation to evacuate the city centre, no-one was killed.
Greater Manchester Police recently launched another review of the evidence.
Mr Sheehan, a former IRA hunger striker and now Sinn Fein member of the Northern Ireland Assembly for West Belfast, suggested his party could apologise in the future.
"We need to get into a process where every party and every antagonist becomes accountable for their actions during the conflict," he said.
"That may mean an apology," he added. "But if the British government are playing hardball and the Republicans are seen to be moving forward, it doesn't help the process."
In 2002, the IRA issued an apology to all IRA victims to mark the 30th anniversary of 'Bloody Friday' when nine people were killed and more than 130 injured in Belfast – but it has never given a direct apology for the Manchester bomb.
'Moved on'
At the time, the then Prime Minister John Major called on Sinn Fein to condemn the attack but Gerry Adams declined to do so unequivocally, saying he regretted the incident.
Reconciliation becomes difficult if "one party moves ahead and other parties don't," Mr Sheehan said.
He said hatred had existed on all sides for many years but the British government had perpetrated injustices that "led to the conflict" and …read more
Source:: BBC world news feed