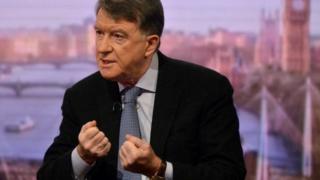 Lord Mandelson: Don't rush to oust Jeremy Corbyn
25 September 2015
From the section UK Politics
Image caption
Lord Mandelson warned Jeremy Corbyn's opponents to be ready for the "long haul"
Lord Mandelson has advised Labour Party members unhappy at the election of Jeremy Corbyn not to be in a hurry to see him replaced as leader.
In comments seen by the Guardian newspaper, the peer argues Mr Corbyn has to demonstrate his "unelectability" at the polls before facing a challenge.
Last month, Lord Mandelson warned that Labour could be in "mortal danger" if Mr Corbyn won the party's leadership.
Mr Corbyn's team and the Labour Party have not commented on the remarks.
In a private paper circulated to political associates last week, Lord Mandelson told opponents of Mr Corbyn to prepare for the "long haul".
He said: "In choosing Corbyn instead of …read more
Source:: BBC UK