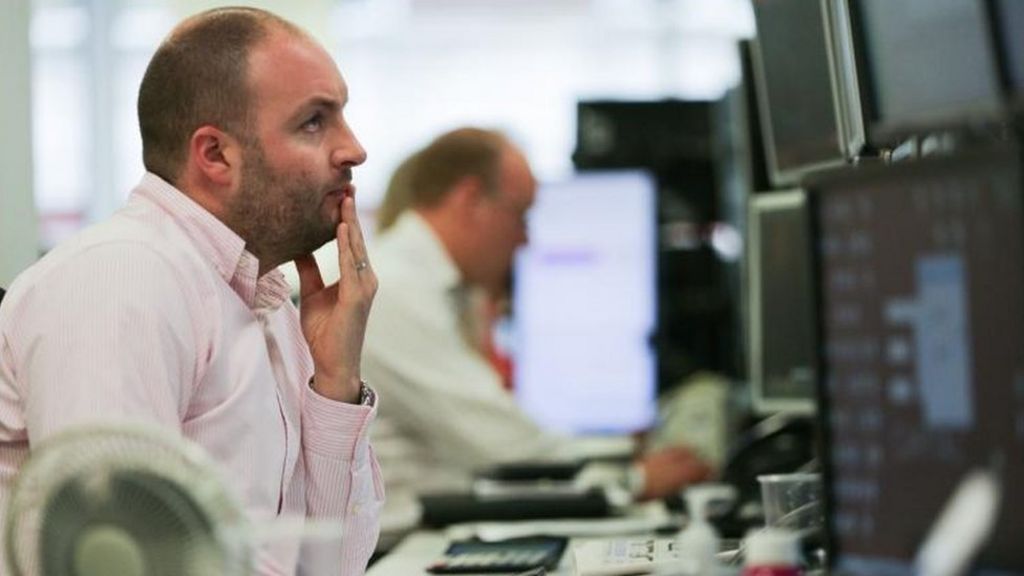 Pressure has eased on UK financial markets after two days of turmoil in the wake of the Brexit vote, with the FTSE 100 share index opening higher.
In late morning trading, the index was up 2.4% at 6,128.32, while the FTSE 250 had gained 2.9%.
The FTSE 100 lost 5.6% in the previous two trading sessions, while the more UK-focused FTSE 250 had slumped 13.7%.
The pound also showed signs of recovery, rising 0.8% against the dollar to $1.3328.
The pound had risen as high as $1.50 shortly before the result of the vote became clear on Friday morning.
But on Monday, the currency plunged to a 31-year low against the dollar, while some share trading was temporarily halted.
Business live: Latest news on Brexit impactWhat does a falling pound mean for you?Five models for post-Brexit UK tradeFive changes to your finances post-vote
Ahmed: No farewell from Osborne
Also on Monday, yields on 10-year government bonds sank below 1% for the first time as investors bet on an interest rate cut.
The UK market recovery was led by the sectors that had been worst hit in the past two days' trading – banks, property and airlines.
Barclays and Lloyds were up 3.4% and 6.3% respectively, while housebuilders Persimmon and Taylor Wimpey were 2.4% and 4.5% higher.
Airline Easyjet, which saw big losses on Monday, was up 5.6%.
Shares in gold miners, which had performed well on Monday, were among the biggest fallers on the FTSE 100 as the gold price weakened.
Randgold Resources and Fresnillo were down 2.6% and 5.5% respectively.
'Bounce overdue'
"The sun is out in London, the FTSE 100 is rallying and even the pound is moving higher," said Chris Beauchamp, senior market analyst at IG.
"You might almost think there had been no Brexit vote and no downgrade of the UK economy overnight. …read more
Source:: BBC UK