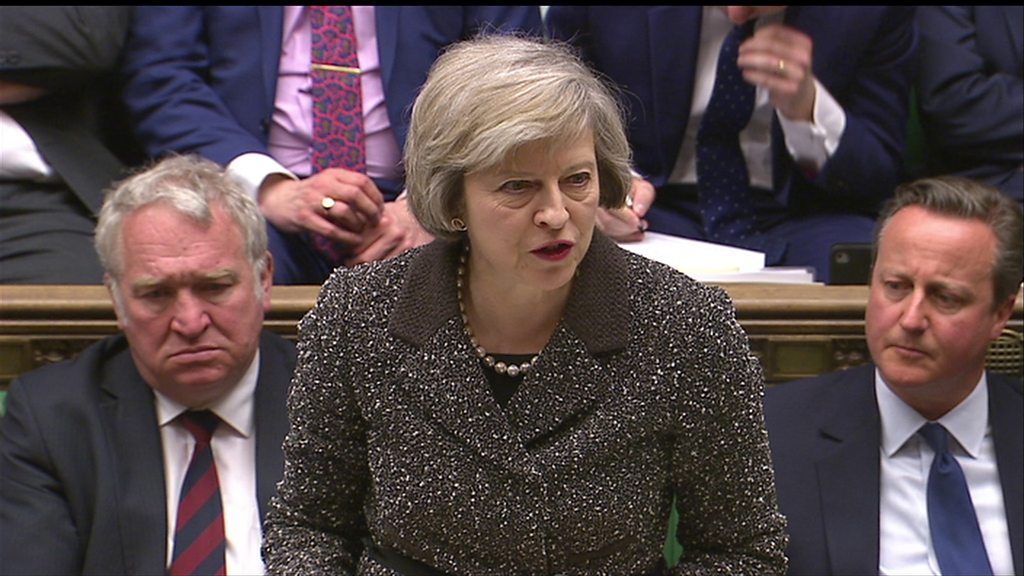 Home Secretary Theresa May has praised the "extraordinary dignity and determination" of the Hillsborough families.
She was speaking after inquests concluded that 96 Liverpool fans were unlawfully killed in the disaster.
"The terrible events of Saturday 15 April 1989 shocked this country and devastated a community," she said.
David Cameron also paid tribute in the Commons to the families whose search for justice "was met with hostility".
Ms May said: "It is not possible for us to understand what they have been through."
She said for 27 years the families and survivors "fought for justice from the authorities that should have been trusted, and have laid blame and tried to protect themselves."
The families "have never faltered", she said, and commended their courage, determination and resolve.
"No-one should have to endure what the families and survivors have been through and no-one should have to fight for year after year and decade after decade for the truth."
She said: "Clearly the jury's determination that those who died were unlawfully killed is of great public importance."
"It overturns in the starkest way possible the verdict of accidental death returned at the original inquests.
"However. the jury's findings do not, of course, amount to a finding of criminal liability, and no-one should impute criminal liability to anyone while the ongoing investigations are still pending."
She read out the potential offences under investigation including gross negligence, perjury, manslaughter, misconduct in a public office and perverting the course of justice.
Mr Cameron said the inquests' conclusion "marked a momentous day for the family and friends of the 96 victims".
He said: "Over the last 27 years, their search for justice has been met with obfuscation and hostility, instead of sympathy and answers.
"As I said to the House in 2012 about the Hillsborough Independent Panel's report, it's wrong that the families had to wait for …read more
Source:: BBC UK