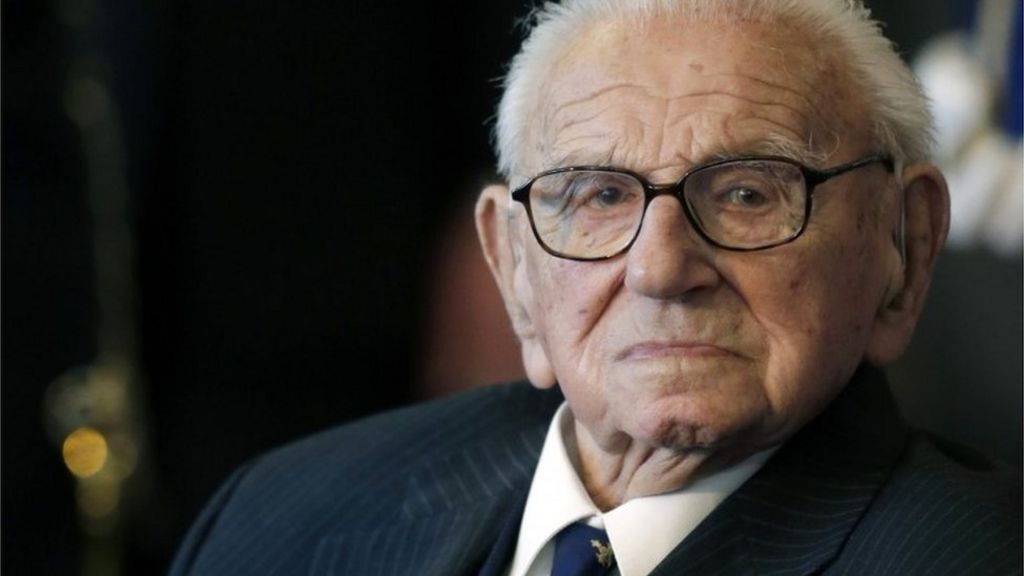 A memorial service will be held later for Sir Nicholas Winton, who rescued hundreds of children from the Holocaust in the months before World War Two.
The service at London's Guildhall will be attended by 400 people, including 28 of those he saved, and Czech, Slovak and UK government representatives.
Sir Nicholas organised the "Kindertransport" in which 669 mostly Jewish children came to Britain by train from Czechoslovakia in 1939.
He died on 1 July last year aged 106.
The Kindertransport became public knowledge on BBC TV show That's Life in 1988 when presenter Esther Rantzen reunited some of those saved with the person who helped them escape the Nazis.
Many of the children went on to have their own families and the number currently alive as a result of the Kindertransport is believed to be about 7,000.
Holocaust 'hero' Sir Nicholas Winton dies aged 106
Nicholas Winton's children on their father
Saved children and their families, making a total of about 130, have travelled from around the world to go to the service.
Those attending include Lord Alfred Dubs, Lady Milena Grenfell-Baines and the Rev John Fieldsend, who were all part of the Kindertransport, and representatives from the German and Swedish embassies.
The service will have contributions from Lord Dubs, Dame Esther Rantzen, four other of the children, and former Czech ambassador Michael Zantovsky.
A spokesman for the service said: "The memorial service provides an opportunity for the many hundreds of people around the world who owe their lives to Sir Nicholas, or who have been inspired by him, to celebrate his achievements and to pay their respects to a British citizen who helped to make the world a better place."
A memorial concert will take place on Friday at St John's Smith Square in central London, including readings by actors Jason Isaacs and Rupert Graves and music …read more
Source:: BBC UK