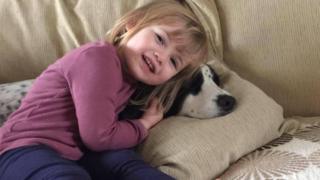 Image copyright
Just Giving / Charlene Reed
Image caption
Faye Burdett was taken to A&E with a rash on her forehead but died days later
More than 260,000 people have signed a petition calling for all children to be vaccinated against meningitis after the death of a two-year-old girl.
Faye Burdett, from Maidstone, Kent died on Valentine's Day after fighting the infection for 11 days.
Her family said they were enduring "a pain you cannot describe" after the toddler contracted meningitis B.
Her story, told by her mother Jenny, has been widely shared on social media including Facebook and Twitter.
Mrs Burdett has published graphic photos of Faye, including one of her in a hospital bed just before she died, in order to raise awareness about the disease.
'Massive operation'
"We campaign for change in her memory," she said.
"Faye was taken to A&E with a rash on her forehead. She was then transferred by South Bank Retrieval Service to Evelina Children's Hospital, where her heart stopped in the ambulance.
"They revived her and spent hours working on stabilising her.
Source:: BBC UK