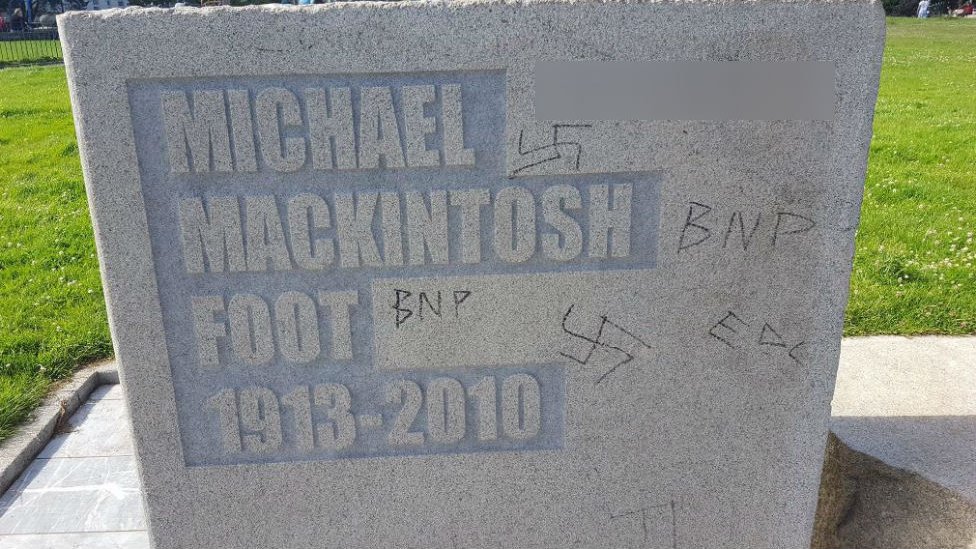 Racist vandals have attacked a memorial to the late Labour leader Michael Foot in his home city.
The tribute, just yards from his family home in Plymouth, was daubed with swastikas and references to the British National Party and English Defence League.
Luke Pollard, who helped raise money for the memorial, called it "sickening".
The graffiti has now been removed with help from the council and volunteers.
Click here for live updates on this story
Mr Pollard, who stood as a Labour candidate in the 2015 General Election, said: "Michael Foot spent his entire career standing up against fascism and it is important for us all to stand up and make sure the actions of a few do not increase fear."
He said that a "toxic atmosphere" in the country after the Brexit referendum result had contributed to the vandalism, which happened on Sunday.
"A very small number of people think it is now acceptable to say vile, racist and homophobic things in public," he said.
He added the response from people in the city had been "incredible" and with help of volunteers and the "quick response" of the city council, the graffiti had been removed.
Michael FootMP from 1945 to 1992, including 10 years in the Plymouth Devonport constituency
Won the Blaenau Gwent seat in Wales in 1960
Held Blaenau Gwent for 32 years before standing down in 1992
Employment secretary in the 1974-76 Labour government under Harold Wilson
Leader of Labour Party 1980 to 1983
Died March 2010 aged 96
Tudor Evans, leader of the Labour group on Plymouth City Council, accused the perpetrators of being "nazis" in a tweet.
Former Labour spin doctor Alastair Campbell said on Twitter: "This is disgusting beyond belief. Michael was a great man and a good friend. This strikes at everything he stood for."
Source:: BBC world news feed