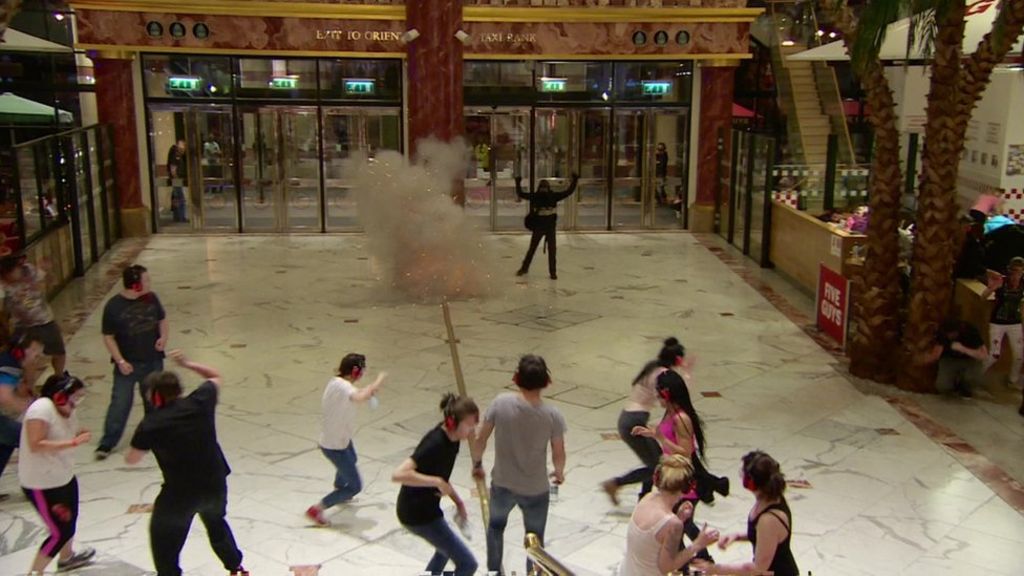 Greater Manchester Police has rejected claims of "institutional racism" after a counter-terrorism exercise in which an actor playing an Islamist terrorist shouted "Allahu Akbar".
Chief Constable Ian Hopkins said the phrase was "not scripted" and the actor involved was "not a police officer".
The force has apologised for racial stereotyping after the mock terror attack at the Trafford Centre.
Eight hundred volunteers took part in the overnight drill on Monday.
Organisers of a protest meeting at Longsight Saath Saath on Tuesday accused Greater Manchester Police (GMP) of racism and demanded an inquiry.
'Real world'
Mr Hopkins said: "The religious phrase used shouldn't have been used. It has caused offence to many members of the Muslim community for which we apologised.
"It was not scripted, and I think that is really important, so nobody sat around and thought this is a good idea, and the role player that has used the phrase is not a police officer or an employee of GMP."
However, Mr Hopkins warned: "If we are going to tackle terrorism we can only do that in conjunction with our communities… and if we isolate any of our communities we won't get intelligence and we won't get people working with us.
"It would do nobody any good to isolate any parts of our communities."
Future exercises needed to take greater account of cultural and religious sensitivities at the planning stages and community groups should be brought in to advise, he added.
However, Chris Phillips, former head of the government's National Counter Terrorism Security office, has said it is "silly to become upset" about the use of the phrase Allahu Akbar – which means "God is great".
"We have to live in the real world," he said.
"The police officers here were trying to do an exercise in realism and unfortunately, since the 2000s, …read more
Source:: BBC world news feed