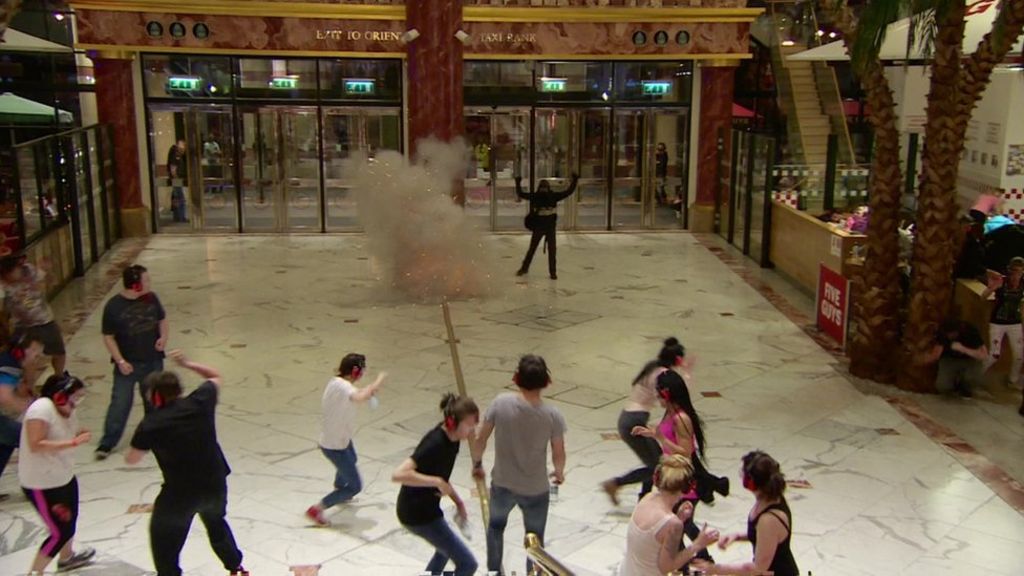 A mock terror attack, featuring a bomber simulating killing and injuring shoppers, has been staged at one of England's largest shopping centres.
It was part of a terrorism training exercise at the Trafford Centre, Greater Manchester overnight to test the emergency response to an attack.
Eight hundred volunteers took part in the counter-terrorism drill to make it as realistic as possible.
Police said the event was not linked to any specific terror threat.
'As if in pain'
Armed officers drilled their counter-terror tactics during the simulated attack at the entrance to The Orient food court.
It started at midnight when a man dressed all in black walked in shouting.
An explosion then rocked the food hall and volunteers – wearing ear defenders and safety glasses – who dropped to the floor.
Many were made up to look as if they had horrific injuries and others screamed out as if in pain.
Smoke filled the entrance to the food court and some of the volunteers ran from restaurants, as if they were trying to dash to safety.
Greater Manchester Police (GMP) said the simulation – codenamed Winchester Accord – was to "test the emergency response to a major terrorist incident".
GMP said it has been planned since December and some of the three-day training exercise will take place in Merseyside.
Assistant Chief Constable Rebekah Sutcliffe said the simulation, which is part of a national programme, was "not linked to any specific terror threat or attack".
In 1996, an IRA bomb exploded outside the Arndale shopping centre in Manchester.
A total of 212 people were injured when the 1,500kg explosive was detonated in a parked lorry.
Similar counter-terrorism exercises have been carried out in London and Glasgow.
Other locations in the counter-terrorism exercise include Redbank Community Home in Newton-le-Willows on Wednesday.
Source:: BBC world news feed