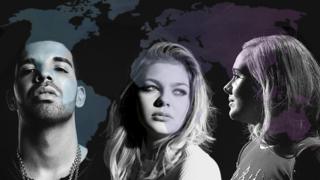 Musical 'twin cities' emerge from data
By Mark Savage
Music reporter
13 January 2016
From the section Entertainment & Arts
Image caption
Drake, Louane and Adele all proved popular in the month-long survey of Shazam's users
Beyonce is big in Sudan. Brazilian songwriter Rodrigo Amarante has found fame in Uzbekistan. Leo Sayer is the most popular artist in Peru.
Those are the surprising results of a BBC project looking into the music people search for on their phones.
The data was provided by Shazam – a company that helps its 100 million users to identify any song they hear by playing an excerpt into their phone.
Overall, Adele's Hello was the most-searched for song globally.
Shazam's users looked up the track in 2,578 …read more
Source:: BBC Entertainment