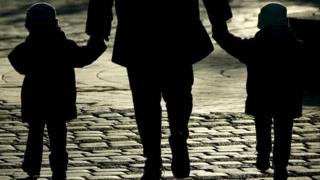 Nearly 100,000 children classed as homeless
24 September 2015
From the section UK
Nearly 100,000 children are living in temporary accommodation in England after being made homeless, new government figures show.
On 30 June, 66,980 individuals or families were registered homeless and awaiting a settled home – an increase of 12% from the same date in 2014.
Almost a third of the households, which included 99,080 children, had lost a home in the private rented sector.
The charity Crisis said housing benefit had failed to keep up with rent rises.
A person is considered "statutorily homeless" by the government if they no longer have a legal right to occupy their accommodation or if it would no longer be reasonable to live there, for example if it would lead to violence against them.
'Grim picture'
At the end of June, most of the families with children, 88%, were living in self-contained accommodation, a property where the household has sole use of the kitchen and bathroom.
But more than 2,500 families with children were living in bed and breakfast accommodation – 25% higher than a year earlier.
Of those households, 830 had been in B&Bs for more than 6 weeks, 36% higher than a year earlier.
Source:: BBC UK