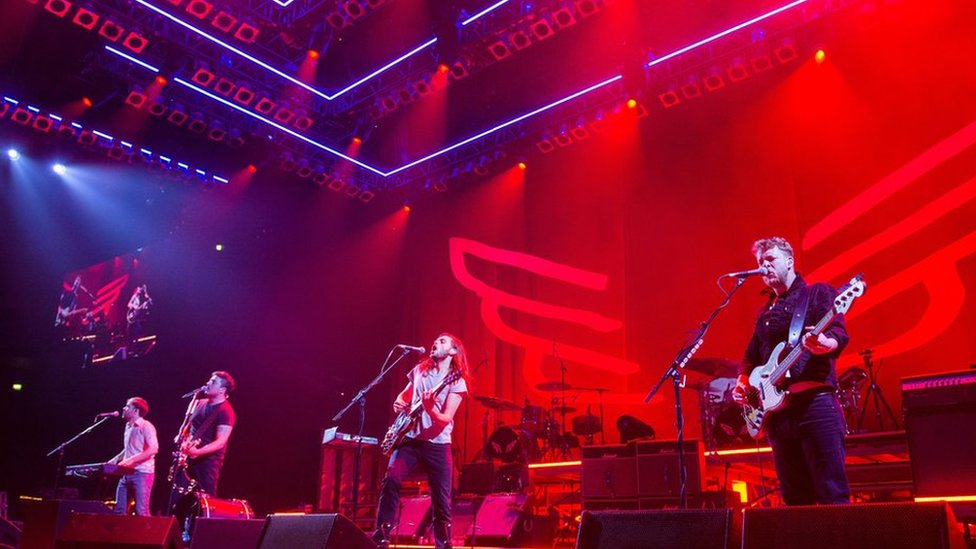 Nearly 30 million music fans attended British gigs and festivals in 2015, according to a new report.
UK Music, an organisation which represents the music industry's interests, says 27.7 million fans headed to a live music event last year.
It meant a total spend of £3.7bn which was up 7% from 2014.
The Wish You Were Here report adds that thanks to people travelling to see their favourite bands or heading to a festival, it's helped local economies.
For example, the report says the east Midlands region generated £162 million from fan visits in 2015, thanks to 360,000 visitors which helped support 2021 jobs in the local area in cities and towns like Derby, Leicester and Northampton.
Just this weekend alone saw Download festival at Donnington Park, Parklife in Manchester, the Isle of Wight festival and Field Day in London's Victoria Park.
BBC Radio 1's Big Weekend saw 50,000 fans head to Powderham Castle in Exeter to see the likes of Coldplay, Mumford and Sons and The Weeknd perform.
Image caption Coldplay performing at Powderham castle in Exeter
Jo Dipple, the chief executive for UK Music said: "What this report shows, unequivocally, is the economic value of live music to communities, cities and regions.
"We know music is a shared cultural experience. Wish You Were Here puts hard facts around that experience as well as showing the numbers of tourists it attracts."
London had the biggest number of visits and the largest amount of money spent.
More than 3.2 million people passed through London's music venues generating just shy of £1bn towards the capital's economy.
It's also the first time data has been collected on venues with a capacity lower than 1,500, as well as all the larger venues with big capacities.
Last year more than 5.6 million visits were made to the UK's vast network of grass roots and small venues.
That generated more than £231m.
The number of people visiting British shores for a gig from abroad has also gone up by 16%, with the average person spending nearly £1000 per festival trip.
John Whittingdale MP, Secretary of State for Culture, Media & Sport said: "This is a fantastic achievement and a great testament to both our live music industry and the musical talent it supports.
"This is no surprise given British artists account for just over one in seven albums purchased by fans around the globe."
Find us on …read more
Source:: BBC Entertainment