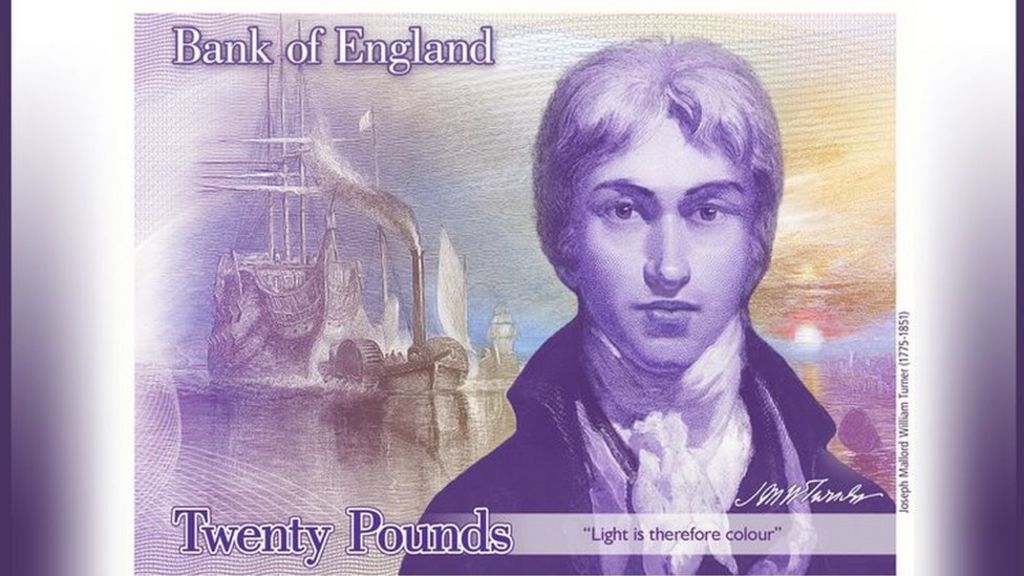 Artist JMW Turner and his painting The Fighting Temeraire will feature on the new design of the Bank of England's £20 note to enter circulation in 2020.
The English Romantic artist was chosen from a list of public nominations – the first time the Bank has asked who should appear on a specific banknote.
The note, to be made of polymer, will eventually replace the current £20 note featuring the economist Adam Smith.
The choice means all but one Bank of England banknote character will be men.
Of the five characters on banknotes by 2020, other than the Queen only Jane Austen – appearing on the £10 note from 2017 – is a woman.
The men who will feature by 2020 are Sir Winston Churchill on the £5 note who will replace campaigner Elizabeth Fry from September, Turner on the £20 note, and Matthew Boulton and James Watt remain on the £50 note.
Selection process
The Bank received 29,701 nominations from the public after it announced it wanted to celebrate an artist on the note. Some 590 eligible visual artists were considered for the honour – about a fifth of whom are women.
The list was considered by a Bank committee chaired by the Bank's deputy governor Ben Broadbent, and including chief cashier Victoria Cleland and independent experts Sir David Cannadine, Baroness Lola Young of Hornsey and Sandy Nairne. Three visual arts experts – John Akomfrah, Alice Rawsthorn, and Andrew Graham-Dixon – were also consulted.
The committee drew up a shortlist of four – filmmaker Charlie Chaplin, sculptor Barbara Hepworth, painter William Hogarth, and designer Josiah Wedgwood.
The final decision was made by the Bank's governor, Mark Carney.
'Influence'
Joseph Mallord William Turner, or JMW Turner (1775 – 1851), is known as "the painter of light" and described by artist Tracey Emin as a "wild maverick".
Mr Carney, the Bank's …read more
Source:: BBC UK