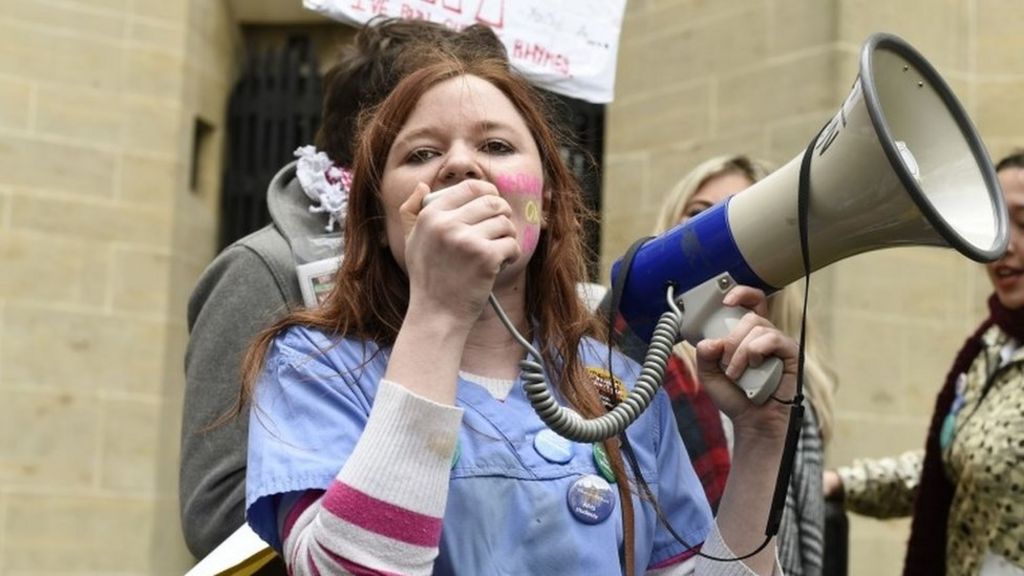 Plans have been made to deal with a "difficult" second day of the junior doctors' strike, NHS England has said.
More than 5,000 operations and procedures have been postponed as a result of the the 48-hour walkout which started at 08:00 BST on Wednesday.
NHS England national incident director Dr Anne Rainsberry said there would probably be greater impact on Thursday.
Junior doctors in England are taking part in a fourth strike in a long-running dispute over a new contract.
Dr Rainsberry said: "Patients are at the heart of the NHS and we can only apologise to the thousands of people facing disruption and uncertainty as a result of this ongoing action.
"We've already seen the pressure a 48-hour stoppage places on the NHS.
"The impact of the action so far is broadly in line with what we were expecting but tomorrow (Thursday) is likely to more difficult and we have made sure we have planned for this.
"Patient safety is always our absolute priority and staff across the country will be doing their utmost to make sure patients can continue to access urgent and emergency services."
NHS England said 46% of junior doctors turned up to work on Wednesday.
This included those who never intended to strike such as those providing emergency care cover.
The latest action means the total number of treatments that have been delayed has now hit 24,500 during the dispute.
The Patients Association has come out in support of junior doctors despite the disruption, saying the government should not be imposing the contract.
But despite pleas from them and other organisations for both sides to get back round the negotiating table, the government and the British Medical Association (BMA) have remained adamant they will not budge from their positions.
Sources indicated there was now little dialogue between ministers and the union with the first ever walkouts of emergency care in the history of the NHS planned for the end of April.
The all-out stoppages will take place from 08:00 to 17:00 BST on both 26 and 27 April and will see junior doctors refuse to staff A&E departments as well as emergency surgery and intensive care.
The BMA said it had been left with "no choice" in its fight against the government's plan to impose a new contract in which, it said, the profession had "no confidence".
Ministers have said the changes, which will see doctors paid less for working weekends while basic pay is increased, are needed to improve …read more
Source:: BBC world news feed