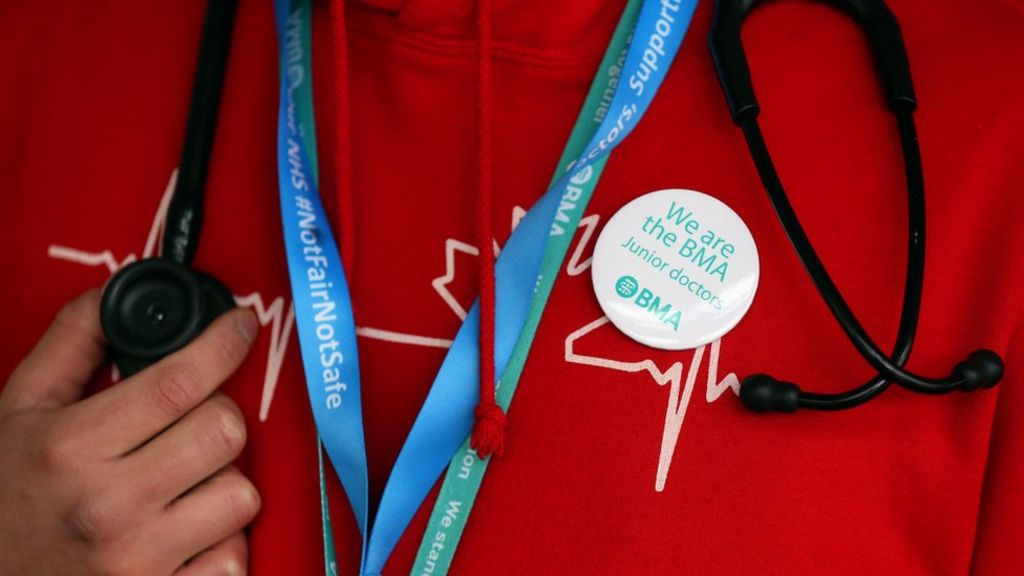 Planned all-out strikes by junior doctors in England this week could threaten the safety of patients, Health Secretary Jeremy Hunt has warned.
Hospitals are making final preparations for the latest walkouts – on Tuesday and Wednesday – when emergency care will be affected for the first time.
Mr Hunt said the "extreme" action would be "deeply worrying for patients".
The BMA said it would call off the strike if Mr Hunt's threat to impose a contract on junior doctors was lifted.
Junior doctors are planning two one-day strikes on Tuesday and Wednesday – walking out between 08:00 BST and 17:00 BST each day.
If they go ahead, it will be the first time in the history of the NHS that junior doctors have walked out of accident and emergency units, urgent maternity services, resuscitation and mental health crisis teams.
from Hugh
Strike action so far has affected routine care, but not urgent care.
Advice published by NHS England says A&E departments will be open during the strike, while GP practices "may experience greater demand than normal" during the walkout.
Essential care will be provided by consultants and other senior staff during the strike.
Patients with planned treatments and outpatient appointments during the strikes should be contacted by their hospital, the advice stated.
Some 112,856 outpatient appointments and 12,711 planned operations are set to be delayed due to the action, NHS England says.
'Enormous strain'
The latest round of strikes follow a long-running row about a controversial new contract for junior doctors in England.
Mr Hunt has argued that he wants to improve care on Saturdays and Sundays, saying research shows patients are more likely to die if they are admitted during a weekend.
However, the BMA has so far rejected the proposed terms of the new contract – which will change their pay and conditions, particularly for weekend work.
Mr Hunt has said he will now unilaterally impose the contract on junior doctors.
On Saturday, the health secretary wrote to Mark Porter, chairman of the BMA council, asking him to call off the strike and resume talks.
He wrote that the strike will place "enormous additional strain on our NHS at a time of intense pressure".
However, Mr Porter replied on Sunday, writing that a negotiated settlement "cannot take place with the threat of imposition hanging over our junior doctors' heads".
"If you agree to lift imposition while talks resume, we will immediately call off the industrial action", he wrote in a letter.
On Sunday, Mr …read more
Source:: BBC UK