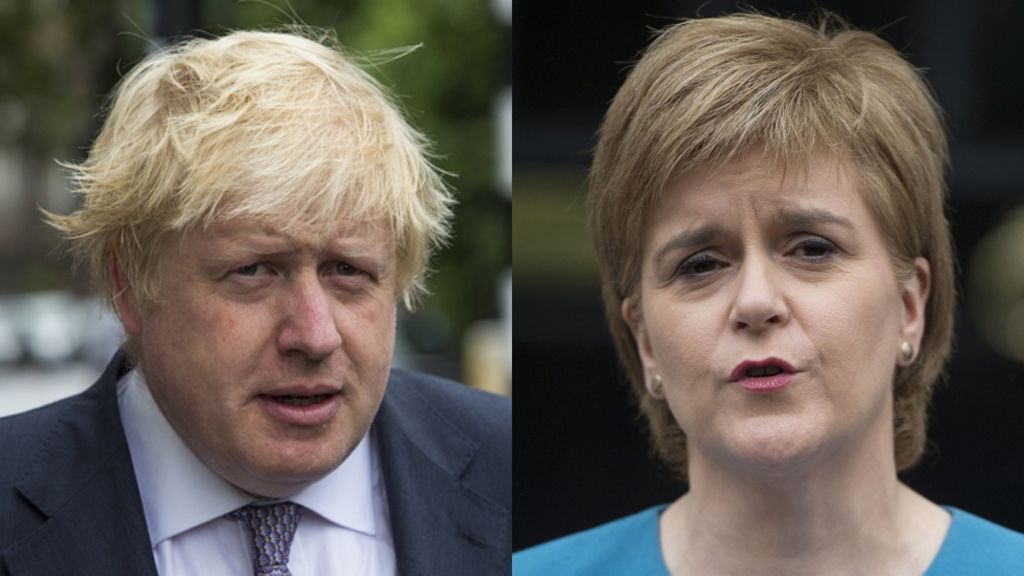 Nicola Sturgeon has accused Boris Johnson of being responsible for the start of "Project Farce" as the fallout continues from last week's Brexit vote.
She was responding to Mr Johnson stating that "Project Fear was over" – a reference to the supposed "scare tactics" used by the Remain side.
Scotland voted to remain in the EU, but the UK as a whole voted to leave.
Ms Sturgeon has said she will do all she can to ensure Scotland remains in the EU.
Speaking as he left his London home on Monday morning, Mr Johnson said: "It is clear now that Project Fear is over, there is not going to be an emergency budget, people's pensions are safe, the pound is stable, the markets are stable, I think that's all very good."
Ms Sturgeon responded by tweeting: "Indeed, Boris. Project Farce has now begun – and you are largely responsible".
The first minister is to hold talks with Irish president Michael D Higgins as she seeks to build bridges with EU countries following the referendum.
Mr Higgins is on a three-day trip to Scotland, which will also see him address the Scottish Parliament.
On Friday, Ms Sturgeon said a second independence referendum was "highly likely" and at the weekend raised the possibility of the Scottish Parliament blocking the UK's departure from Europe if MSPs were required to give formal backing for Brexit.
In other developments:
The first minister has also called for urgent talks with Brussels as she attempts to plot a way forward.
Three opinion polls carried out since Thursday's referendum have suggested that the result has boosted support for Scottish independence, with support put at 52%, 54% and 59%.
David Mundell, the UK government's Scottish secretary, said "of course" there could be a second independence referendum, but he did not believe there should …read more
Source:: BBC UK