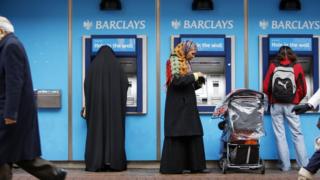 Nine UK banks launch fee-free accounts
By Brian Milligan
Personal Finance reporter
27 December 2015
From the section Business
Image copyright
Getty Images
Nine High Street banks and building societies in the UK are to launch basic bank accounts which will not charge a fee for missed payments.
The new accounts will be available from 1 January to people who fail to qualify for a full current account.
It follows an agreement between the Treasury and the industry in December last year.
Nine million basic account holders will now not be charged for missing a direct debit payment, or a standing order.
Previously they might have paid up to £35 per failed payment, sometimes pushing them into an overdraft, so increasing the charges further.
"One bank charges £150 a quarter, and such costs can be make or break for some people," said Kevin Mountford, head …read more
Source:: BBC UK