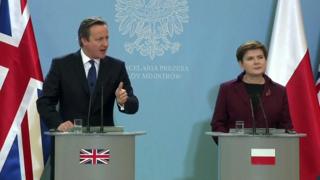 Poland doesn't see 'eye-to-eye' with UK on curbing benefits
10 December 2015
From the section UK Politics
David Cameron says he has yet to reach agreement with Poland over his call for benefit curbs for EU migrants.
Polish prime minster Beata Szydlo said she did not see "eye-to-eye" with Mr Cameron on the issue but wanted Britain to remain in the EU.
She promised further talks in January to reach a "consensus".
Mr Cameron said curbing "excessive migration" by restricting benefits for new arrivals was a "difficult" goal but was key to his EU renegotiations.
Follow the latest updates with BBC Politics Live
EU referendum result to be declared in Manchester
The main sticking point for Poland, which must agree to Mr Cameron's reforms, along with the other EU member states, is his call for migrants to wait four years before they can claim in-work benefits.
Mrs Szydlo said she was also concerned about UK proposals to end the practice of sending child benefit overseas.
She said she had common ground with the UK on many of its negotiating objectives but she suggested Mr Cameron's welfare proposals undermined the principle of free movement.
"Allowing people the freedom to make decisions on free movement, where they want to live, where they want to work… these are the …read more
Source:: BBC UK