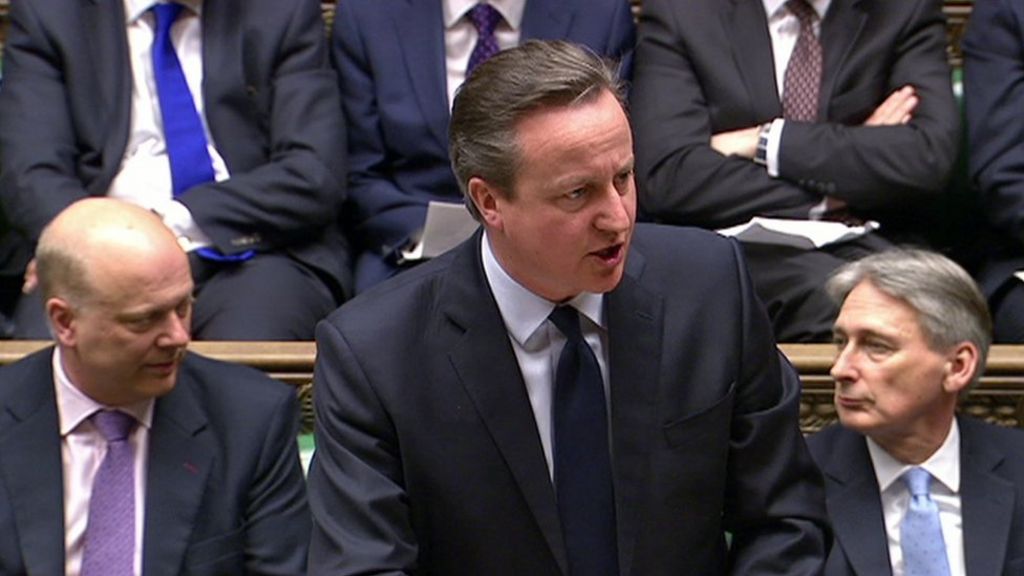 David Cameron has hit back at Labour calls for Chancellor George Osborne to resign as he sought to heal a rift in his party over Budget spending cuts.
He praised Mr Osborne for "turning the economy around" and stressed his government was committed to "compassionate Conservatism".
He also praised Iain Duncan Smith's record – after the minister quit in protest at "unfair" disability cuts.
Labour said Mr Osborne's Budget was in "chaos" and should be withdrawn.
Mr Cameron added his comments onto the end of a statement about the European Council following a weekend of turmoil and Conservative infighting triggered by Mr Duncan Smith's resignation.
He told MPs Mr Duncan Smith "contributed an enormous amount to the work of this government and he can be proud of what he achieved".
But the PM also made clear his support for embattled George Osborne, who must now find more than £4bn after planned cuts to Personal Independence Payments (PIP) were scrapped.
The Conservative leadership has been under fire – including from some of its own backbenchers – over the cuts to disability payments, which came at the same time as tax cuts for higher earners.
Iain Duncan Smith said this flew in the face of Mr Cameron and Mr Osborne's oft-repeated claim that "we are all in this together".
But Mr Cameron stressed to MPs that the Conservatives remained "modern, compassionate, one nation" party under his leadership.
He listed policies aimed at low-earners including the National Living Wage and rebuilding "sink estates", adding: "None of this would be possible if it wasn't for the actions of this government and the work of the chancellor in turning our economy around."
The changes to Personal Independence Payments which prompted his resignation have now been shelved, and ministers plan to say how the planned £4bn savings will be found at the Autumn Statement later …read more
Source:: BBC UK