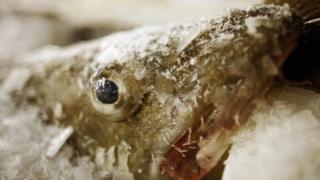 North Sea cod back on the menu, marine body says
25 September 2015
From the section UK
Image copyright
Getty Images
North Sea cod has been taken off the Marine Conservation Society's (MSC) list of fish to avoid eating.
The UK charity had previously said cod should not be eaten because stocks were only slightly above sustainable levels.
It now says cod can be eaten as an occasional treat – perhaps once a week – and has removed it from its red list of endangered fish.
The new guidance follows a recovery in North Sea cod numbers and a planned increase in the EU quotas for the fish.
But the MSC warned that nine other stocks of cod remained on its list and said more work was needed to improve their numbers.
And it said cod may never fully recover to their peak numbers of the 1970s and early 1980s.
'Years of sacrifice'
North Sea cod numbers collapsed during the 1980s through a combination …read more
Source:: BBC UK