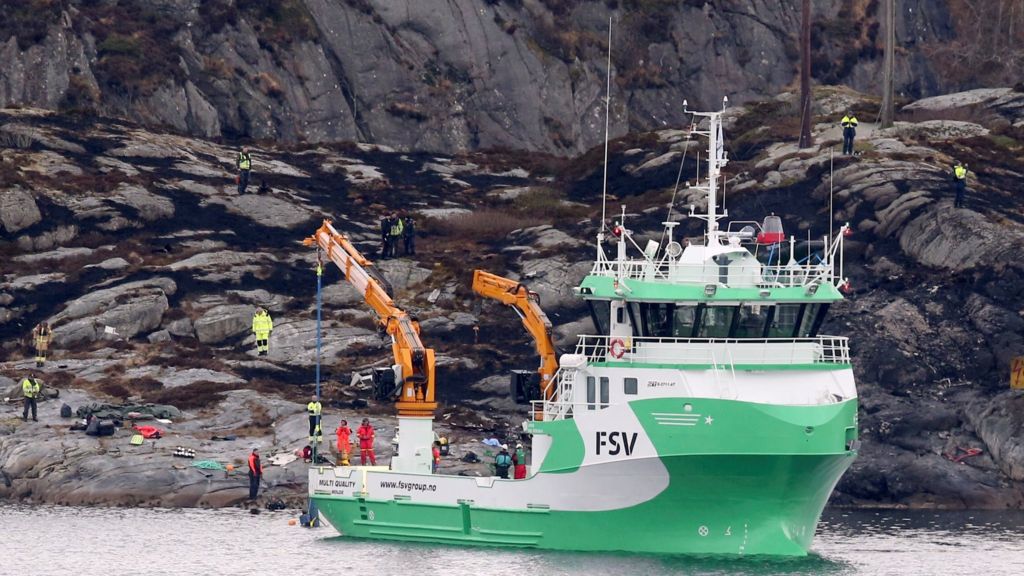 A Scottish man killed in a helicopter crash in Norway has been named locally as 41-year-old oil worker Iain Stuart.
Mr Stuart, from Laurencekirk in Aberdeenshire, worked for the oil field services company Halliburton.
Eleven people are known to have died and two more are presumed dead after the Airbus EC225LP helicopter – or Super Puma – crashed on Friday.
Commercial flights by the helicopter in the UK have been grounded by the Civil Aviation Authority (CAA).
A team from the UK's Air Accidents Investigation Branch has gone to the crash site, near the city of Bergen, to help with the investigation.
A petition to remove the EC225 Super Puma helicopter from services, started by an oil worker following the crash, has now been signed by more than 5,000 people – some of them relatives killed in other incidents.
The petition calls on the CAA to "revoke the air worthiness certificates for this aircraft", claiming that failure to do this could result in "more needless deaths".
Commenting on the petition, the mother of 27-year-old oil rig worker Stuart Wood who died in a Super Puma crash in 2009, said all versions of the helicopter should be withdrawn.
Audrey Wood, from Newmacher, Aberdeenshire, said: "Seven years on and my life has stood still. Wouldn't wish this heartache on my worst enemy.
"All variants of Puma should be removed from the oil industry, men should feel safe travelling to work not fear if they will ever see their loved ones at home again."
The helicopter in this latest crash was flying from the Gullfaks oil field to Bergen, a centre for the North Sea oil and gas industry, when it crashed near the small island of Turoey.
A major rescue operation was launched but ended within hours of the crash. Mr Stuart was a passenger on the aircraft along …read more
Source:: BBC UK