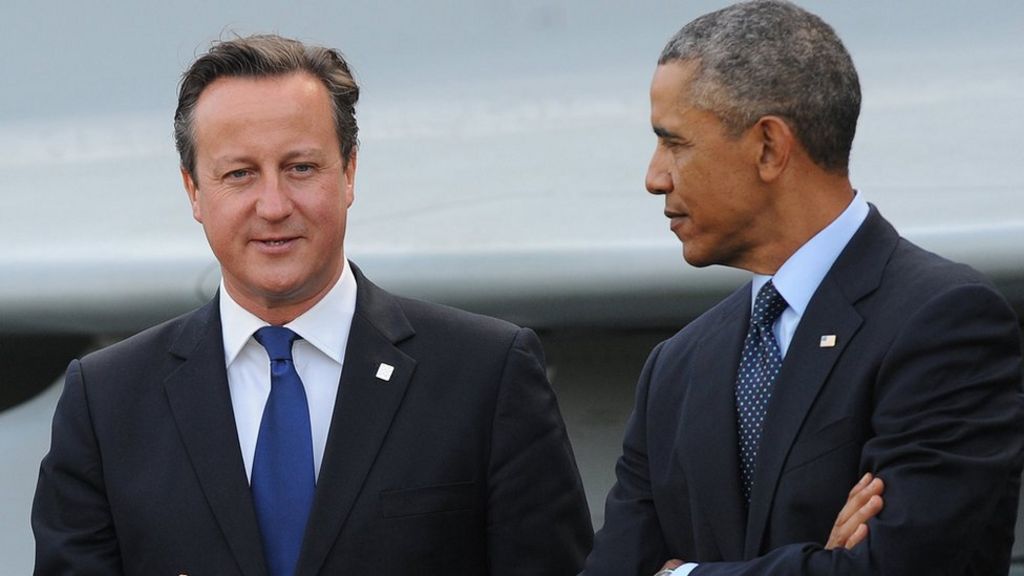 David Cameron became "distracted" after the 2011 intervention in Libya, US President Barack Obama has said.
In an interview with The Atlantic magazine, he also criticised "free riders" in the international community who are unwilling to offer military resources despite calling for action.
The article also said he had warned the PM the UK would have to pay its "fair share" and spend 2% of GDP on defence.
Mr Cameron's spokesman said there were "real challenges" in Libya.
He said: "We need it to support a process that brings a government to Libya and to support that government in the future – the challenge we had is do we stand by and let a leader torture and terrorise his own people?"
Asked about the criticisms over defence spending, the spokesman refused to comment on conversations between the PM and the president.
President Obama's remark to the PM was reportedly made before Chancellor George Osborne said the government would fulfil a Nato pledge to spend 2% of national income on defence last year.
The toppling of the Gaddafi regime in Libya – following UN-backed air strikes designed to protect civilians – led to a power vacuum and instability, with no authority in full control.
The intervention was led by the UK and France – and in his interview, Mr Obama reflects on "what went wrong", saying: "There's room for criticism, because I had more faith in the Europeans, given Libya's proximity, being invested in the follow-up."
'Casualties averted'
Mr Cameron, he said, became "distracted by a range of other things". He also criticised former French President Nicolas Sarkozy, saying he had tried to claim the spotlight.
The former French president, he said, "wanted to trumpet the flights he was taking in the air campaign, despite the fact that we had wiped out all the air defences and essentially set up …read more
Source:: BBC UK