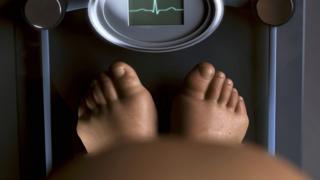 Obesity 'linked to cancer rise'
By Smitha Mundasad
Health reporter
7 January 2016
From the section Health
Image copyright
SCIENCE PICTURE CO/SCIENCE PHOTO LIBRARY
Rising levels of obesity and unhealthy weights could be linked to 670,000 extra cases of cancer in the next 20 years, a UK report predicts.
If current trends continue, experts say, almost three in four adults could be overweight or obese by 2035, bringing a host of health issues.
The Cancer Research UK and UK Health Forum report calls for a 21:00 cut-off time for TV adverts for unhealthy food.
Health officials say they are committed to tackling childhood obesity.
'Tipping the scales'
Recent studies suggest obesity is linked to several cancers – including oesophageal (gullet), womb, and bowel tumours.
And being overweight has long been associated with conditions such as diabetes and coronary heart disease.
In this study, …read more
Source:: BBC UK