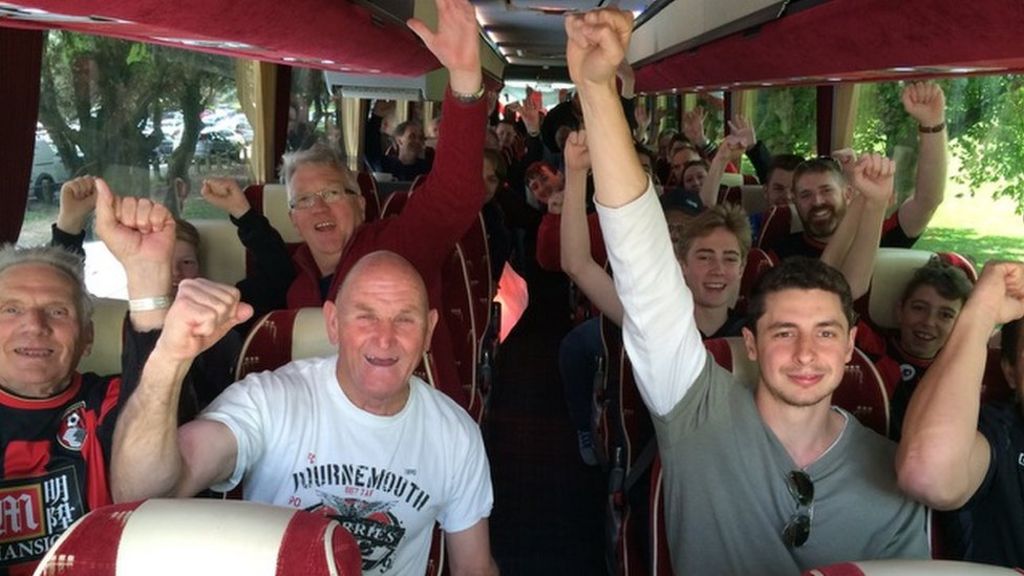 Manchester United and Bournemouth fans are returning to Old Trafford after a bomb scare led to the postponement of a game between the sides on Sunday.
The south coast club laid on a fleet of coaches to transport fans to Manchester for the second time in three days ahead of the 20:00 BST kick off.
Sunday's game was postponed due to a fake bomb left in a stadium toilet.
Fans said many people were unable to attend the re-arranged game due to work and family commitments.
One fan, Barbara Major, said: "The Bournemouth people have suffered the most.
"I don't think it's right but there's nothing you can do about it. Whatever way around you do it, it clashes and somebody isn't going to be happy."
Brian Dodd, from Christchurch, said: "I work nights… I've had to beg my firm to let me have last night and tonight off. It's cost me a lot of money and a lot of aggravation."
Steve James from Bournemouth is one of four friends to attend every game of the season, clocking up more than 8,000 miles.
He said: "It was a long drive home but you can't really complain – they've given us a refund of our tickets, we're on the bus today for free."
One group of fans cycled 300 miles from Bournemouth to Old Trafford for Sunday's fixture, raising more than £3,000 for Dorset Cancer Care.
Cyclist David Jones called the cancellation a "disappointing end to an amazing few days".
Bournemouth fan Eric Stark said he was concerned for those who could not get on a free coach or afford to pay for another form of transport.
"It's not AFC Bournemouth's fault and it's not Bluebird Coaches' fault – and they can only supply a limited amount," he said.
Gemma Hoare, commercial manager for Bluebird Coaches, said five of their vehicles were being used …read more
Source:: BBC world news feed