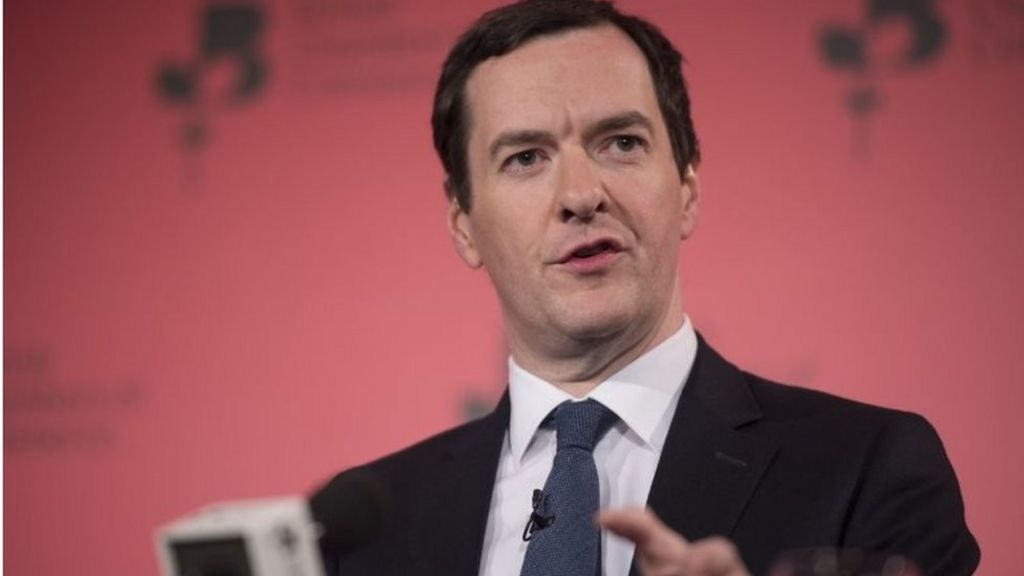 The UK would be "permanently poorer" outside the European Union, Chancellor George Osborne has warned ahead of the in-out vote on membership on 23 June.
A Treasury analysis on the cost of an EU exit will say UK national income could be 6% smaller – the equivalent of £4,300 a year per household – by 2030.
Mr Osborne said the report, being published on Monday, "steps away from the rhetoric" and sets out the facts.
But it has been dismissed as "erroneous" by pro-exit Vote Leave.
Conservative MP John Redwood, who is campaigning for an Out vote, said the Treasury's warnings about an EU exit were "completely absurd".
He said the forecasts for 2030 were "completely worthless" given its past record.
"This is a Treasury which failed to forecast the huge damage membership of the European Exchange Rate Mechanism inflicted on us and they were always very keen to join us and it gave us a huge recession. They failed to forecast the damage to the UK of the Eurozone crisis of 2011," the MP added.
But Mr Osborne defended the report's findings on BBC Radio 4's Today programme, saying: "The conclusions could not be clearer. Britain would be permanently poorer if we left the EU to the tune of £4,300 for every household in the country. That's a fact everyone should think about "
The chancellor said "it would be the poorest" who would be most affected by an EU exit, citing people whose jobs "depend" on the car plants and the steel making factories.
"They are the people whose incomes would go down, whose house prices would fall whose job prospects would weaken, they are the people who always suffer when the country takes an economic wrong turn," he said.
He added: "If you look at the evidence and what the rest of the world is telling Britain …read more
Source:: BBC UK