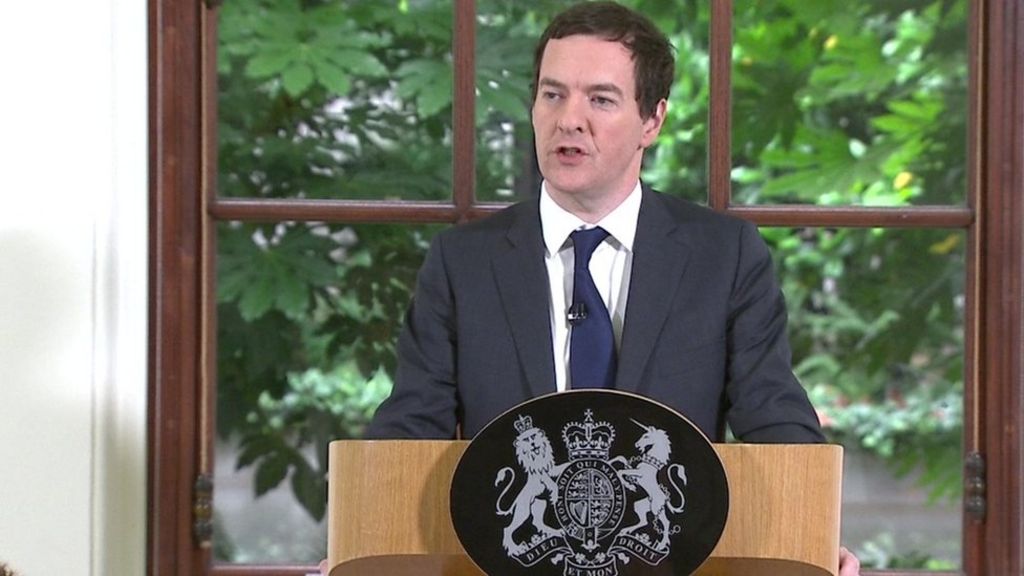 George Osborne has said the UK is ready to face the future "from a position of strength".
The chancellor made the assertion in a statement aimed at calming financial markets after the Brexit vote triggered market turmoil on Friday.
He had not spoken since the Leave campaign won Thursday's referendum.
"I said we had to fix the roof so we were prepared for whatever the future held and thank goodness we did," he said.
Before that statement the pound fell further, down another 2.6% against the dollar at $1.34.
Mr Osborne appeared to retreat from his position before the referendum that there would have to be an emergency Budget in the wake of a vote for Brexit.
He said there would still need to be an "adjustment" in the UK economy, but that it was "perfectly sensible to wait for a new prime minister" before taking any such action.
Mr Osborne said he had spoken to Bank of England governor Mark Carney and that there were "well thought through contingency plans if needed".
"You should not underestimate our resolve," he said.
Mr Osborne said the referendum result was "not the outcome that I wanted", but added: "The British people have given us their instructions."
He also appeared to rule out resigning in the near future, saying that the UK needed to negotiate its exit from the EU with its "European partners and allies".
"I intend to play an active part in that debate," he said.
Source:: BBC UK