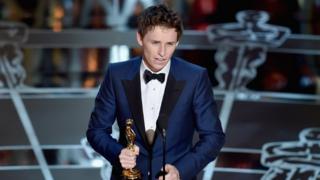 Oscars 2016: Redmayne and DiCaprio set for nominations
14 January 2016
From the section Entertainment & Arts
Image copyright
Getty Images
Image caption
Eddie Redmayne won the best actor award last year for his role in The Theory of Everything
Eddie Redmayne is tipped to be in the running for a second best actor award when the Oscar nominations are announced later.
He is expected to be cited for his role in The Danish Girl, with competition set to come from Leonardo DiCaprio.
DiCaprio, the star of survival epic The Revenant, has been nominated four times but is yet to win an Academy Award.
His film …read more
Source:: BBC Entertainment