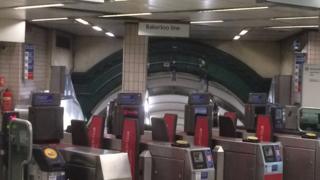 Oyster card glitch means free travel in London
2 January 2016
From the section London
Image caption
Travellers in London are unable to touch in or out at some stations on the underground
Passengers in London have been travelling for free after a technical glitch left people unable to use their Oyster cards.
A system fault with the card readers has affected buses and Tube stations, with passengers being waved through by Transport for London (TfL) staff.
A TfL spokesperson said it was working to resolve the issue "as quickly as possible".
People could still travel across the Tube, bus and rail networks, it added.
Source:: BBC UK