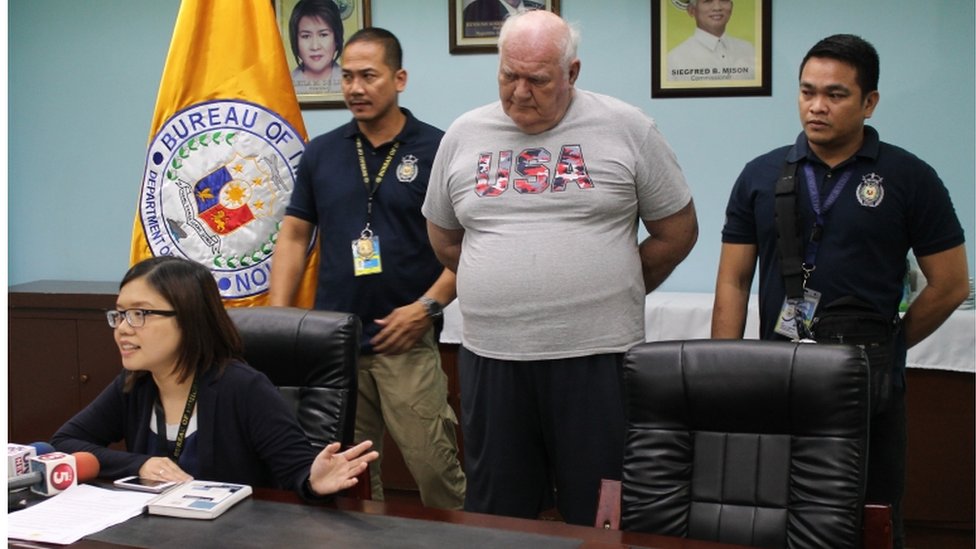 A co-founder of the Paedophile Information Exchange, dubbed one of the "vilest men in Britain", has been convicted of 13 child abuse offences.
Douglas Slade, 75, was arrested in the Philippines in 2015 and deported back to the UK to face 13 charges relating to the abuse of five boys.
Slade was found guilty at Bristol Crown Court of six serious sexual offences and seven counts of indecent assault.
The crimes took place between 1965 and 1980.
Another man, Christopher Skeaping, 72, formerly of Hounslow in London, was found guilty of one charge of indecent assault dating back to 1980.
Slade was an early member of the notorious pro-paedophile group PIE which was set up in 1975.
The BBC spoke to one of Slade's victims, who met him in 1980 when he was 15 years old.
He was repeatedly raped and offered to other men during visits to Slade's Bristol home.
"I was in a desperate situation at home," the survivor said.
"I was looking for somewhere that would be a refuge for me."
Slade's history of paedophilia was exposed in the Sunday People where he was named as one of the "vilest men in Britain".
Det Sgt Paul Melton, from Avon and Somerset Police, said Slade "was one of the main instigators" of the group, running a helpline for paedophiles from his parents' home.
"It was a network of people who abused children and handed children between men in order that they could abuse them."
Sentencing will take place at Bristol Crown Court on Friday.
Source:: BBC world news feed