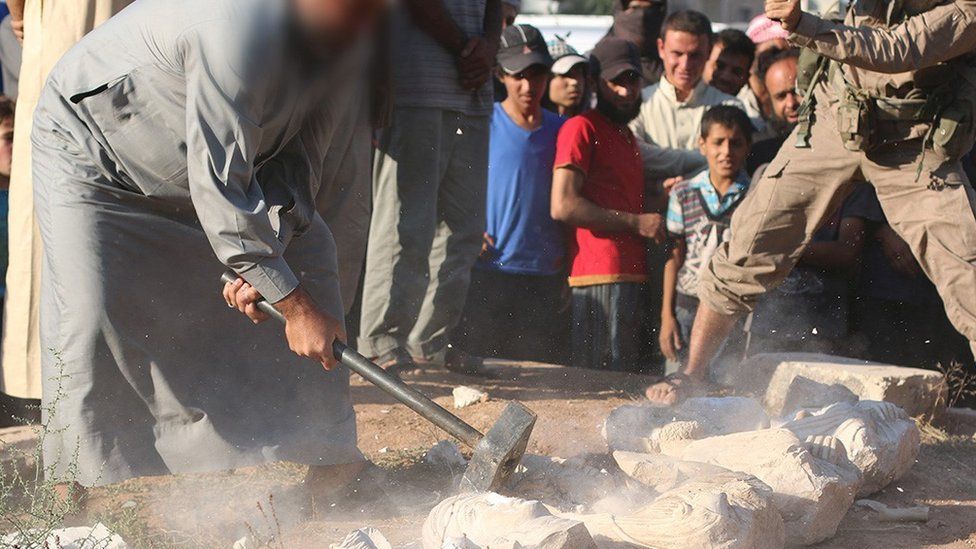 Islamic State militants 'destroy Palmyra statues'
2 July 2015
From the section Middle East
The destroyed statues bore similarities to those previously displayed at Palmyra's museum
The Islamic State group has published photographs of militants destroying what it says are artefacts looted from the ancient ruins of Palmyra in Syria.
Six statues are shown being hit with sledgehammers while a crowd looks on.
The jihadist group said the statues had been seized from a smuggler, who was pictured being whipped as a punishment.
Meanwhile, the UN's cultural agency has said antiquities plundered by IS from sites in Iraq and Syria have ended up with collectors in the UK.
Syria's antiquities director Maamoun Abdelkarim said on Thursday the IS group had destroyed a 2,000-year-old statue of a lion from the Palmyra ruins.
Mr Abdelkarim called the destruction of the three-metre (10ft) statue, known as the Lion of al-Lat, "the most serious crime [IS has] committed against Palmyra's heritage."
'Brutal destruction'
Unesco's Director-General Irena Bokova told the BBC that looting was being carried out on an industrial scale and that IS militants were "using the illicit trafficking, the selling of these objects in order to finance extremism and terrorism".
However, Ms Bokova did not provide any evidence to support her allegation that British collectors were buying such artefacts and the view was challenged by an art expert from the art world, says the BBC's Frank Gardner.
Irena Bokova called for international action to combat the trafficking of artefacts
…read more
Source:: BBC Entertainment