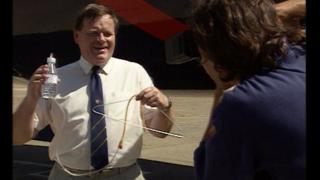 Nottingham surgeon renowned for 'mid-air operation' retires
3 October 2015
From the section Nottingham
Image caption
Mr Wallace was praised for his quick thinking during the mid-air medical emergency
A surgeon who developed the UK's brace position, passed Wayne Rooney fit to play in a World Cup and saved a woman's life with a coat hanger is retiring.
Professor Angus Wallace developed the brace position after researching injuries in 1989's Kegworth air crash.
He hit the headlines when he treated a woman on a flight with a coat hanger and when he operated on Rooney in 2006.
At his retirement party in Nottingham, the Scot said he had learned to live with the English.
Mr Wallace was working at Queen's Medical Centre the night a plane crashed on the M1 near the Leicestershire village of Kegworth in 1989.
His research on the injuries sustained …read more
Source:: BBC world news feed