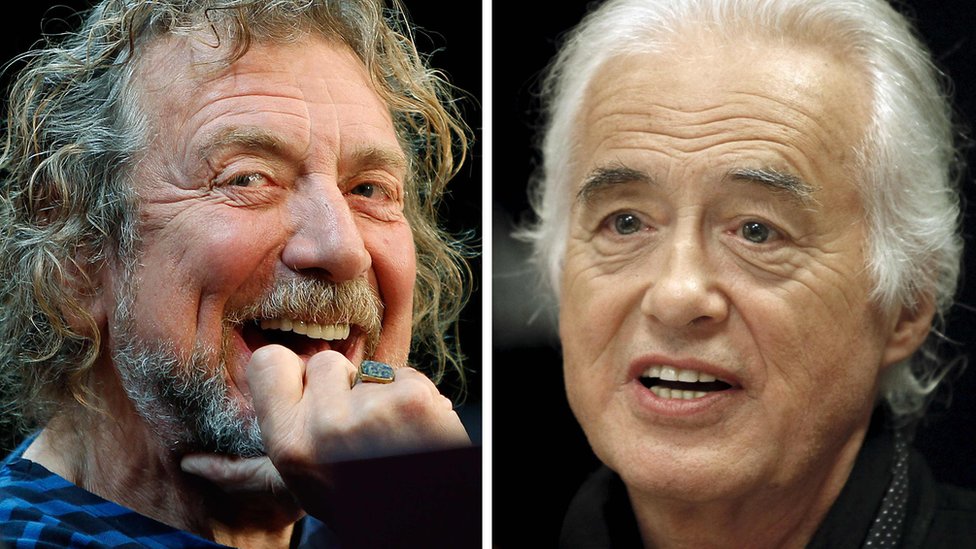 Led Zeppelin singer Robert Plant has told a court hearing the Stairway to Heaven copyright dispute that he has a dim memory of the time it was written.
He said he had no memory of associating with the band Spirit, members of which say Led Zeppelin stole a chord sequence for Stairway to Heaven in the 1970s
"I don't have a recollection of almost anyone I've hung out with," Plant said, causing roars of laughter in the court.
The case was brought on behalf of Spirit's late guitarist, Randy Wolfe.
Plant told a packed courtroom that he and his wife had been in a bad car crash and he could not recall the evening he was supposed to have met members of Spirit.
The two bands played on the same bill in Birmingham in 1970.
'Snooker and beers'
Spirit's former bass player previously testified that he had drunk beer with Plant and played snooker after the show at the Mother's Club in 1970.
Plant says he wrote Stairway with guitarist Jimmy Page at Headley Grange estate.
He recalled sitting by a fire in the building when Page had played the introduction to the song. From there it had started "rolling pretty fast", he said.
Lawyers for Page and Plant asked Judge R Gary Klausner to throw out the case before it went to the jury, but the judge refused.
In court, the lawyer for Wolfe's estate played both songs and attempted to establish that Page had heard the song prior to writing Stairway to Heaven.
Defence lawyers argue that the chord progression in question is very common and has been in use for more than 300 years.
Source:: BBC Entertainment