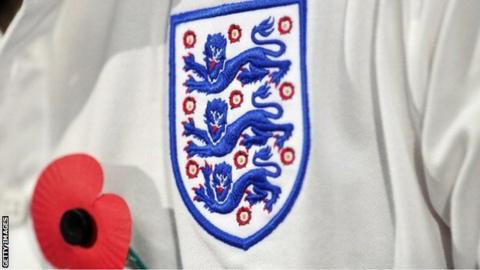 Prime Minister Theresa May says Fifa's apparent refusal to allow England and Scotland players to wear armbands featuring poppies is "outrageous".
The two nations play each other on 11 November, the day when the United Kingdom remembers its war dead.
World governing body Fifa reiterated its ban on political, religious or commercial messages on shirts.
"Before they start telling us what to do, they jolly well ought to sort their own house out," said Mrs May.
"Our football players want to recognise and respect those who have given their lives for our safety and security – I think it is absolutely right they should be able to do so."
World football's governing body has been plagued by corruption allegations in recent years.
Sepp Blatter's 17-year reign as head of the organisation ended in December, when he suspended for eight years from all football-related activities following an ethics investigation.
Speaking at Prime Minister's Questions, Mrs May said the wearing of poppies was a matter for the English and Scottish Football Associations to resolve, but there was a "clear message" from the House of Commons that "we want our players to be able to wear those poppies".
'England should risk a points deduction'
The Scottish Football Association (SFA) said on Tuesday that Fifa had turned down a request from England and Scotland for players to wear armbands in next Friday's World Cup qualifier at Wembley.
The two football associations hope to change Fifa's mind, and want to know what the potential punishments could be should they flout the rule.
Former Culture, Media and Sport Secretary John Whittingdale MP says the England team should wear poppies – even if a points deduction is possible.
Speaking to BBC Radio 5 Live's Emma Barnett, he said: "For [Fifa] to try and brand the poppy as a political symbol shows a total misunderstanding. I think there are a number of reasons why we are already profoundly unhappy with Fifa's behaviour and conduct and this adds to that list."
Fifa has not indicated whether a points penalty would be under consideration as a potential punishment.
More to follow.
Let's block ads! (Why?)
Source:: BBC UK