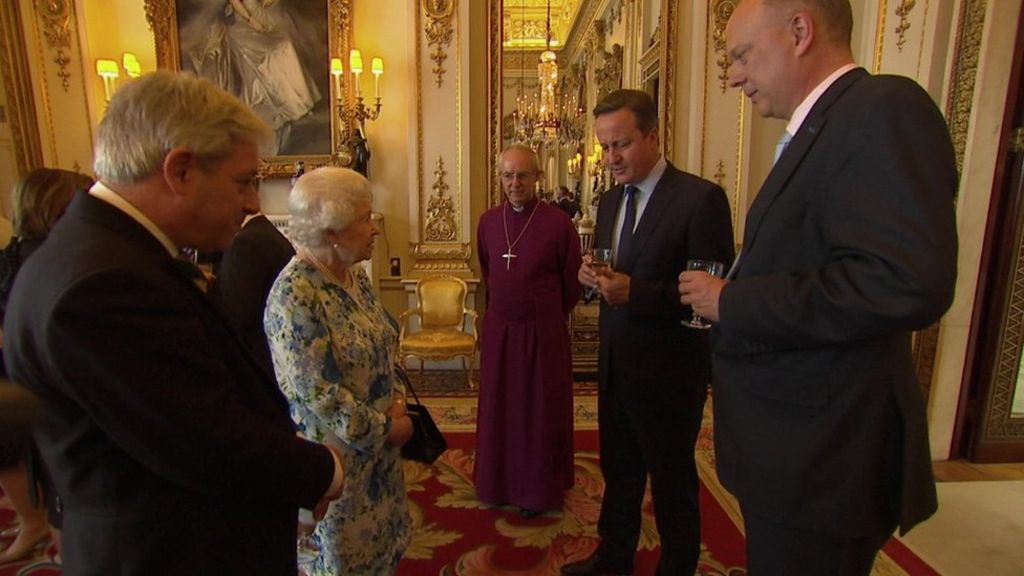 Foreign Secretary Philip Hammond has defended David Cameron after he was recorded calling Afghanistan and Nigeria "fantastically corrupt", saying the PM was "merely stating a fact".
He said the countries' leaders acknowledged a corruption problem.
The PM was recorded in conversation with the Queen at Buckingham Palace.
Nigerian President Muhammadu Buhari said he was "shocked" and a senior Afghan official said the characterisation was "unfair".
Mr Cameron was also defended by ex-London mayor Boris Johnson, who said people would "find it refreshing he was speaking his mind".
Former Commonwealth secretary general Baroness Scotland said the furore was "unfortunate" but that Mr Cameron was not wrong to say corruption was an issue.
Follow the latest political news live
When prime ministers are caught on mic
The prime minister had been speaking at an event to mark the Queen's 90th birthday about hosting this week's anti-corruption summit in London
"We've got some leaders of some fantastically corrupt countries coming to Britain… Nigeria and Afghanistan, possibly the two most corrupt countries in the world," he was overheard saying.
After his comments, Archbishop of Canterbury Justin Welby intervened to say: "But this particular president is not corrupt… he's trying very hard," before Speaker John Bercow said: "They are coming at their own expense, one assumes?"
'A truthful gaffe'
James Landale, BBC diplomatic correspondent
On the face of it, it is perhaps one of the most undiplomatic things a prime minister could say – to describe two countries as fantastically corrupt just hours before their leaders visit Britain.
The prime minister's remarks were outspoken and unguarded but they were not untrue. Both Afghanistan and Nigeria come high on lists of the world's most corrupt nations.
And later in the conversation, the prime minister agreed with the Archbishop of Canterbury that President Buhari of Nigeria is not corrupt himself and is trying very hard to tackle the …read more
Source:: BBC UK