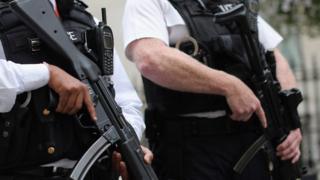 David Cameron 'orders review into police's use of guns'
20 December 2015
From the section UK
Image copyright
Getty Images
The prime minister has ordered a review into the police's use of guns following last month's Paris attacks, the BBC understands.
The review will examine whether the law gives enough support to officers making a "split-second" decision to shoot.
It follows concerns from senior police that firearms officers do not have the necessary legal or political backing to work with confidence.
Labour warned of damaging police-community relations.
Its leader Jeremy Corbyn told the Sunday Times that weakening oversight would damage public confidence in the police.
'Split-second circumstances'
The issue is believed to have been raised at recent briefings by the Met Commissioner, Bernard Hogan-Howe, with Mr Cameron and other ministers, and at a National Security Council meeting last week discussing counter-terrorism.
The internal review – to be carried out by the Home Office, the Attorney General's Office and the Ministry of Justice – is expected to examine whether current law …read more
Source:: BBC UK