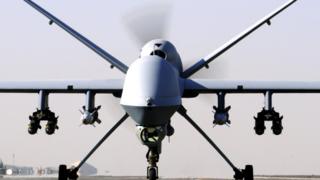 UK drone fleet to double in fight against IS, says PM
4 October 2015
From the section UK Politics
Image copyright
PA
Image caption
The UK's 10 Reaper drones could be replaced with a new fleet of more advanced aircraft
David Cameron has promised to increase Britain's military capability to fight Islamic State militants in Iraq and Syria, including a doubling of the RAF's fleet of drones.
The prime minister told the Sunday Telegraph the UK would spend hundreds of millions of pounds on equipment and resources for special forces.
He said it was essential to meet the terrorist threat facing the UK.
He was speaking as the Tories gather in Manchester …read more
Source:: BBC UK