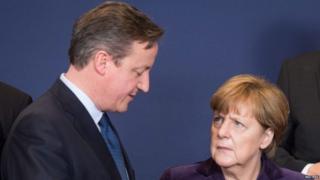 David Cameron appeals for German support for EU changes
7 January 2016
From the section EU Referendum
Image copyright
Reuters
Image caption
German support is seen as crucial to the UK getting agreement on its renegotiations
David Cameron has made a fresh appeal for German support for changes he is seeking to the European Union, saying they are key to the UK's membership.
The UK prime minister, who is on a visit to Germany, argued that his desired changes would benefit Europe's largest economy as well as the UK.
Curbing migrants' benefits and other changes would make a "big difference" to whether the UK stayed, he suggested.
Mr Cameron is pushing for an EU-wide …read more
Source:: BBC UK