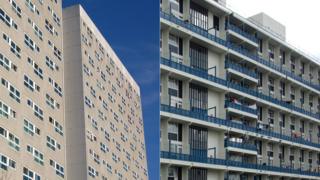 Housing estate 'turnaround' pledged by David Cameron
10 January 2016
From the section UK Politics
Proposals to improve more than 100 of England's worst council estates are to be outlined by the prime minister.
Writing in the Sunday Times, David Cameron said "brutal high-rise towers" and bleak housing will be torn down in a bid to tackle "decades of neglect" that contributed to crime.
The initiative will be headed by Lord Heseltine, who oversaw regeneration in Liverpool and London in the 1980s.
Labour says a bigger scheme with more investment is required.
Details of the plans will be set out in a keynote speech by Mr Cameron on Monday.
He is also due to announce the doubling of government funding for relationship counselling for troubled families and relaunch a coalition proposal to issue vouchers for parenting classes.
In his article, he argues housing estates, "especially those built just after the war, are actually entrenching poverty in Britain – isolating and trapping many of our families and communities."
Mr Cameron said: "Within these so-called sink estates, behind front doors, families build warm and welcoming homes.
Source:: BBC UK