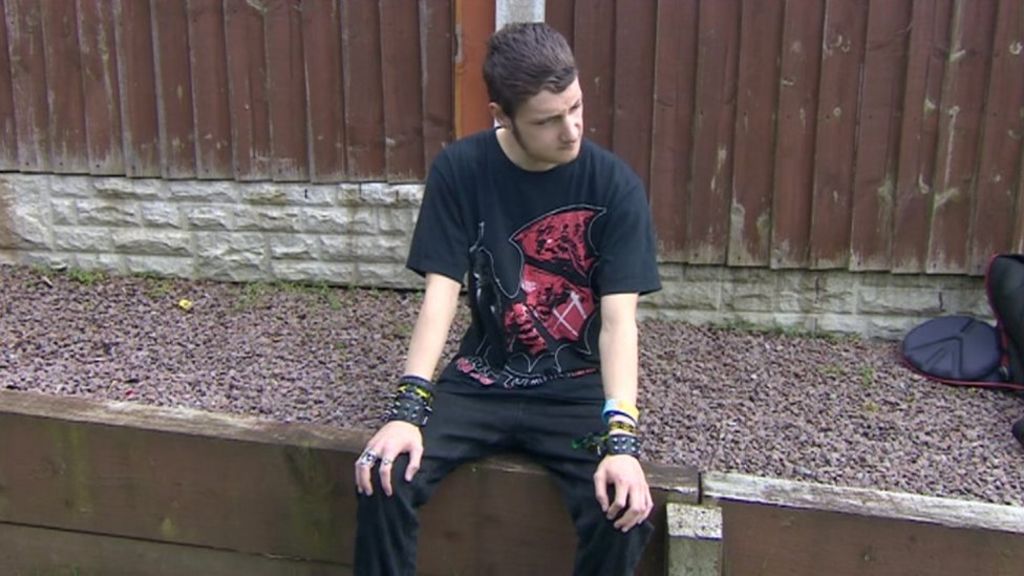 Police are treating an unprovoked attack on a teenage goth, who was left with a shattered jaw and broken nose, as a hate crime.
Ryan Winnals, 19, needed surgery after he was repeatedly punched and knocked unconscious by a gang of youths.
Nottinghamshire Police is the 11th police force to treat attacks on members of subcultures as hate crime.
It follows campaigning by the mother of murdered goth Sophie Lancaster.
'It all happened so fast'
The force has appealed for information about the attack on Ryan, which happened outside Tesco in Huthwaite at about 16:00 BST on 21 May.
"It all happened so fast. I was just leaning against the wall, sat on my phone, looking at something," said Mr Winnals, from Selston.
"I put my phone away, looked up, the next thing I know is I'm getting hit."
Is attacking a goth 'hate crime'?There are five nationally agreed hate crime categories – disability; gender identity; race, ethnicity or nationality; religion, faith or belief; sexual orientation – but forces can add their own categories
Eleven police forces have expanded their hate crime categories to include subcultures after campaigning by the mother of murdered goth Sophie Lancaster
Sophie's mother Sylvia Lancaster said attacks on people from alternative subcultures are a wider issue than people realise, because they "put up with abuse starting from name calling up to physical abuse"
Read about the Sophie Lancaster Foundation
His stepmother, Kelly Wilcockson, said: "In this day and age I think it's disgraceful that you can be discriminated against because of what you wear or what colour your hair is, it's just disgusting.
"These thugs need catching. They can't go around doing that to other people and getting away with it.
"He's a young innocent lad, he's done nothing wrong, all because he was dressed as a gothic person."
Let's block ads! (Why?)
Source:: BBC world news feed