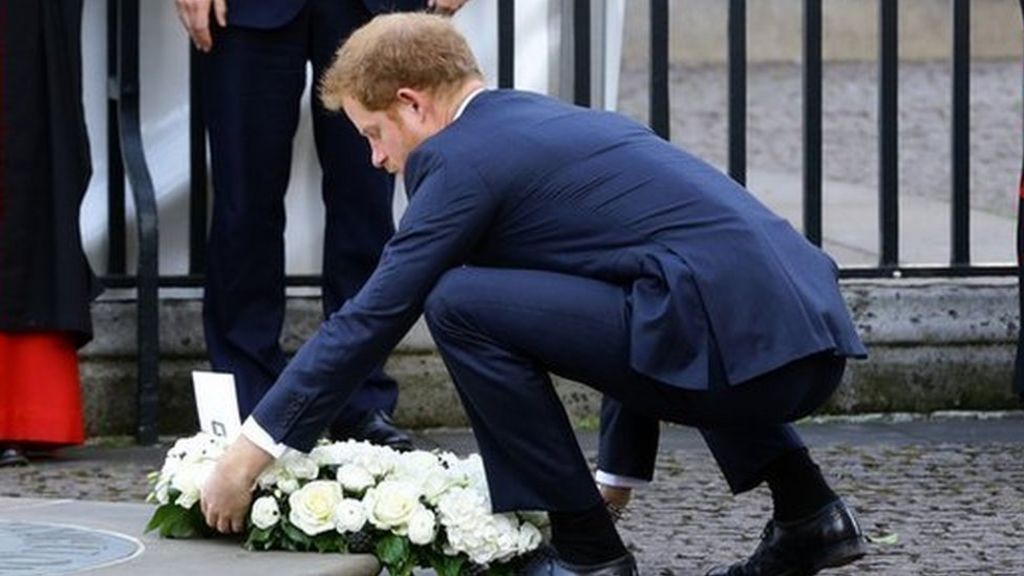 The prime minister and Prince Harry have attended a memorial service to commemorate the British tourists killed in terror attacks in Tunisia last year.
Thirty Britons were among 38 tourists killed by a gunman at Port El Kantaoui in an attack on 26 June. A UK tourist was one of 22 killed in a separate attack at a museum in Tunis in March.
So-called Islamic State said it had been behind both attacks.
The service for survivors and victims' families was at Westminster Abbey.
David Cameron and Prince Harry both read Bible passages at the service, which was conducted by the Dean of Westminster.
The prince also laid a wreath on behalf of the Queen at Westminster Abbey's memorial to innocent victims.
BBC security correspondent Frank Gardner also gave a speech, in which he spoke about being shot six times in June 2004 in a terror attack that left him paralysed from the waist down.
He told the service: "I do share a great affinity with all of you here today because I've known first-hand what it's like to look into those cold, dead eyes of the killers and to be at the wrong end of a smoking pistol."
Tunisia resort attack: What happenedAt approximately 11:30am local time, gunman Seifeddine Rezgui pulled a Kalashnikov from a parasol he was carrying and opened fire on the beach outside the five-star Hotel Rui Imperial Marhaba
He threw explosives at the pool area and then continued shooting inside the hotel reception
Rezgui was filmed running past the neighbouring Hotel Riu Bellevue and up a side alley, still armed with his gun and at least one other grenade
He was shot and killed by police in a nearby street at around 12:30pm
Thirty-eight people were killed in the attack, including 30 Britons, three Irish nationals, two Germans, one Belgian, one Portuguese and one Russian, with many more injured
The so-called Islamic State (IS) said it had been behind the attack
about what happened during the attack
Tunisia attack: The British victims
Debbie Horsfall, from Huddersfield, attended the memorial with her friend, Ellie Makin.
She told the BBC the pair, who are both 23, had been sunbathing on the beach where the attack happened. She heard what she had thought were fireworks or a car backfiring.
"It was my friend [Ellie] who saw him and shouted, 'Run, there's someone with a gun,'" she said.
"When she shouted I didn't think twice, I just ran. …read more
Source:: BBC UK