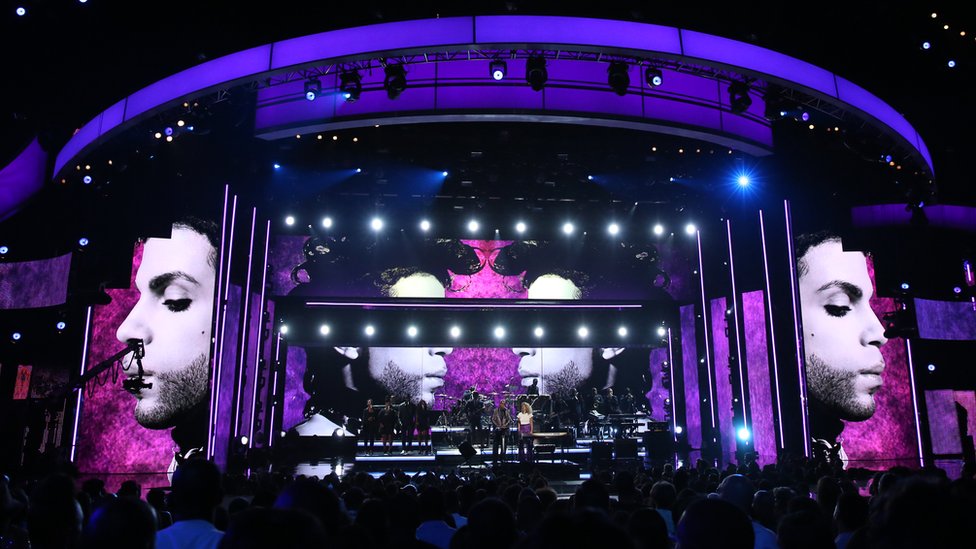 Stevie Wonder, Jennifer Hudson, Roots, Erykah Badu and Sheila E were among the stars who performed tributes to Prince at the Black Entertainment Television (BET) Awards in Los Angeles.
Grey's Anatomy actor Jesse Williams received a standing ovation as he accepted the humanitarian award.
He gave what the Washington Post called "one of the most memorable speeches in award show history".
Samuel L Jackson was awarded the Lifetime Achievement Award.
He praised Williams in his acceptance speech, calling him "the closest thing I've heard to a 1960s activist".
In Williams' speech he demanded equal rights and called for an end to police brutality against black people and white appropriation of black culture.
"A system built to impoverish, divide and destroy us cannot stand if we do," he said.
"We know that police somehow deescalate, disarm and not kill white people every day so what's going to happen is we're going to have equal rights and justice in our own country or we will restructure their function and ours."
"That brother is right and he's true," said Jackson, as he picked up his award.
"When you hear what he said, make sure you vote and you take eight more people with you to vote, OK? Don't get tricked like they got tricked in London!" he said, seeming to refer to the EU referendum.
Another political moment saw R&B artist Usher performing in a shirt which had Don't Trump America written on it.
The Prince tributes were started by Erykah Badu who sang The Ballad of Dorothy Parker from Sign O' the Times.
Stevie Wonder and Tori Kelly teamed up for the Prince/Apollonia duet from Purple Rain, Take Me With U.
They were then joined on stage by Jennifer Hudson who sang the song Purple Rain.
Janelle Monae performed Kiss, Delirious and I Would Die 4 …read more
Source:: BBC Entertainment