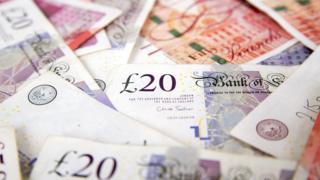 Government borrowing worse than forecast in November
22 December 2015
From the section Business
Image copyright
Thinkstock
Government borrowing figures were worse than expected in November, casting doubts over whether the chancellor will meet forecasts for this financial year.
Borrowing for the month was £14.2bn, up by £1.3bn compared with November 2014.
The Offfice for National Statistics (ONS) said last November's figure was boosted by a one-off gain of £1.1bn in fines for foreign exchange rigging.
Total borrowing for the financial year to date is now £66.9bn, down £6.6bn from the same point last year.
The independent Office of Budget Responsibility (OBR) estimates that borrowing for the whole of the financial year 2015-16 will be £68.9bn – excluding support for public sector banks, and also excluding new changes to the treatment of housing associations.
That is below last year's £90.1bn, which would mean Chancellor George Osborne would have achieved his aim of cutting government borrowing.
Mr Osborne's overall plan is to eliminate the annual gap between government spending …read more
Source:: BBC UK